If gambling is Macau's characteristics, then the horse racing is Hong Kong's. Especially for visitors, if you come to Hong Kong, you should not miss to attend one wonderful and exciting horse racing. As to all the races, the most exciting match should be the finale of the season end. After the past 10 months of intense competitions, we will find out the champion trainer of the season on this very day. Every year on this day, thousands of horse racegoers will gather in racecourse to witness the special moment. After all the races, a ceremony will be held to crown the
[Champion Awards Presentation] for Champion Trainer, Champion Horse and Champion Jokey. This is the highest honor of the horse racing.
This Sunday (July 10, 2011), in Sha Tin Racecourse the last event of this season will be held. From 12:30pm to 5:30pm, there will be a total of 11 exciting races. This season's best jockeys will gather here. Even if you miss all the games before, this day will allow you to enjoy and review the best performance of all the outstanding jockeys throughout the season.
Besides the exciting competitions, the Club also arranges for other programs, entertainers and singers to push the day to a thrilling climax. After the last race, a traditional favorite will be the Jockeys' Parade. All the jockeys will jump over the starting gate, circle around the turf to farewell to their fans and thank for their throughout-season support, as well as give away a bunch of gifts. The races will be suspended during summer time and start again in September as the new season of competitions.
All racegoers will receive a "2010/11 Season Finale Souvenir Pen" as a free door gift before Race 6 while stocks last.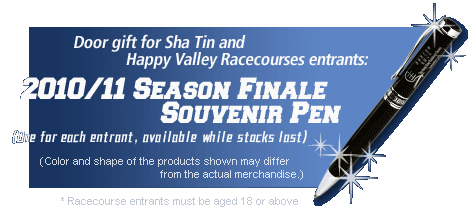 (Picture Source: Hong Kong Jockey Club)
The admission fee for Sha Tin Racecourse is only HK$10. The most convenient way is to take the MTR train to the racecourse. Remind you that the train to racecourse is not as frequent as to other stations. Pay attention to the platform broadcast whether announces "This train will pass through the Racecourse and will not stop at Fo Tan.".