Are you still regretting that you missed the "Dragon Boat Festival" this year? Are you interested to experience this unique and traditional Chinese event? Right now you have a second chance to enjoy a three-day bash of boats and beer.
From 17th to 19th of June, 2011, the second "Hong Kong Dragon Boat Carnival" will be held by the HKTB (Hong Kong Tourist Board) and Hong Kong Dragon Boat Association in East Tsim Sha Tsui waterfront. Two major events "SaSa 2011 Hong Kong International Dragon Boat Races" and "The San Miguel Beer Garden" are both free admission.
Over 200 teams from the world, including Germany, France, Australia, Canada, Japan, Singapore and Mainland China etc., will participate in the contest. There will be 10-20 paddlers of each team crossing from the InterContinental Grand Stanford to opposite Wing On Plaza.
"The San Miguel Beer Garden" will open to public from 1:00 pm to 9:30 pm (beginning on 17th of June from 3 pm). After watching the intense competitions, don't forget to drop by and enjoy a beer and some great food. There also will be fantastic live show by the Hong Kong superstars. A thirty-meter long giant dragon boat will be exhibited at the same time, expecting to make the new record of Guinness World Records.
In addition, on 19th of June 1:00pm, lots of celebrities of Hong Kong such as business people, legislators and superstars will attend the interesting and entertaining "Celebrities Bathtub Races",crossing Victoria harbor in the plastic "bathtub".
It is said this year's races are a warm-up event for the Eighth World Club Crew World Championships in Hong Kong in next year.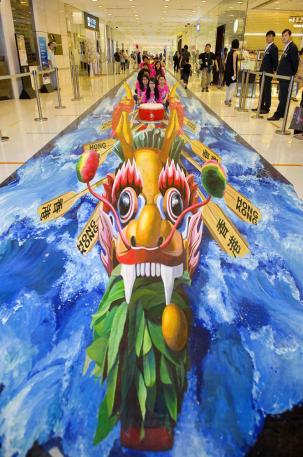 p.s.: In order to promote this event, there is a 3D painting of the giant dragon "Leaping Dragon" (60.46-meter long) exhibited in the Ocean Terminal, Harbor City in Tsim Sha Tsui. Guinness World Records has already announced this dragon painting is the world's longest anamorphic painting. If you visit TST, why not drop by and take a photo with it? The exhibition lasts only till the end of "Hong Kong Dragon Boat Carnival".