<!– Previous and Next Page Code –> <!– End Previous and Next Page Code –> <!– START SOCIAL NETWORKING code –>
Since last Thursday (8th of March, 2012) that Apple launched the new iPad on official Apple website in Hong Kong (please check our earlier post "The New iPad Launch in Hong Kong"), people were asking us many questions such as whether they can get the new iPad in Hong Kong, how they can purchase the new iPad? etc.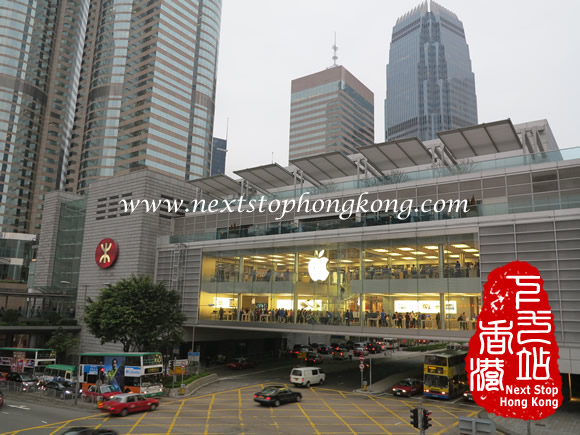 Apple Flagship Store in Hong Kong
Although from 8th to 15th of March you are supposed to be able to preorder the new iPad from Apple website, as we know, within 10 min, the online ordering has been closed and showed "Currently unavailable" due to out of stock. This situation also happened when Apple first launched iPhone 4 and iPad2 in Hong Kong years ago.
Tomorrow (16th of March, 2012) will be the first day that Apple sells the new iPad in store. Today we already can see lots of Apple fans and buyers queuing up outside the Apple Flagship store in IFC. Interestingly, along the way from MTR to Apple Flagship store or outside the store, you easily can find lots of notices posting on the wall or pillars saying:
Please do not queue here. The new iPad will not be available on a first come first served basis. Please refer to the Apple website for details on how to buy your iPad.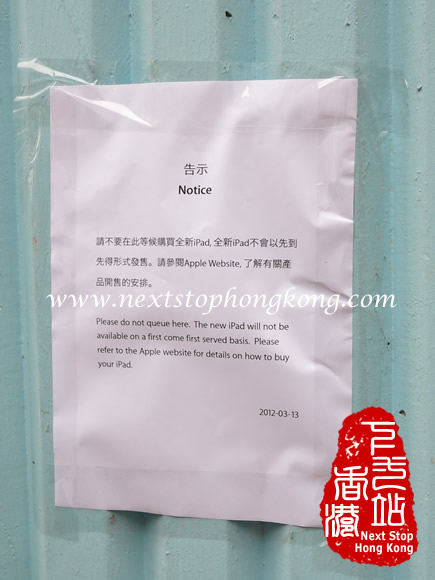 A Notice posted by Apple Store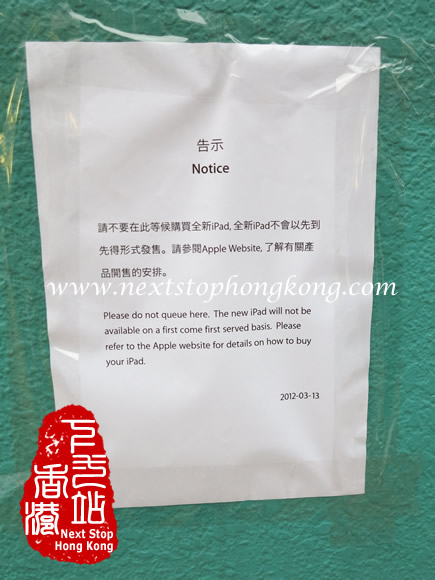 Another Notice posted by Apple Store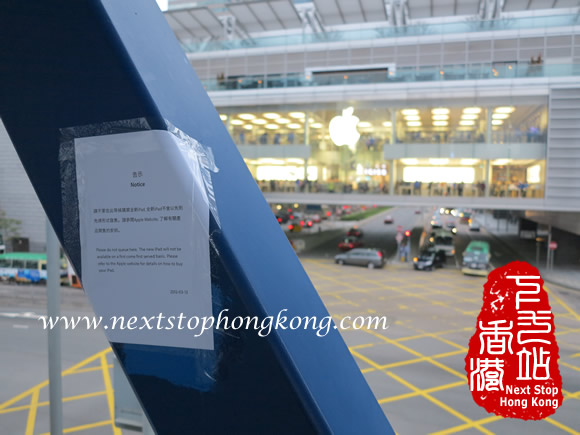 More Notice posted by Apple Store on the Way
However, it seems like nothing can stop those crazy people and Apple fans and nobody listen to it at all.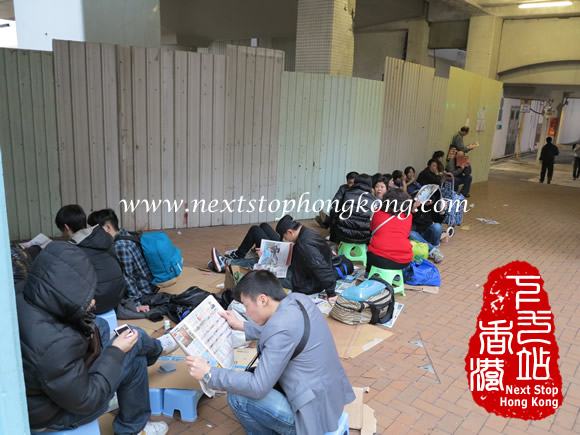 People Still Lining Up and Ignoring the Notices
How to request the new iPad reservation:
In our article "Where to Buy iPhone, iPad, Macs and Other Apple Products in Hong Kong" we have mentioned that Apple Hong Kong have changed the purchasing policy. Right now, they will not sell any iPhone4s to walk-in customers anymore. Apple implemented a lottery-like system to prevent and fighting the practices of scalpers. This policy and regulation also applies to the New iPad. (for details please refer to our article: "The New iPad Launch in Hong Kong")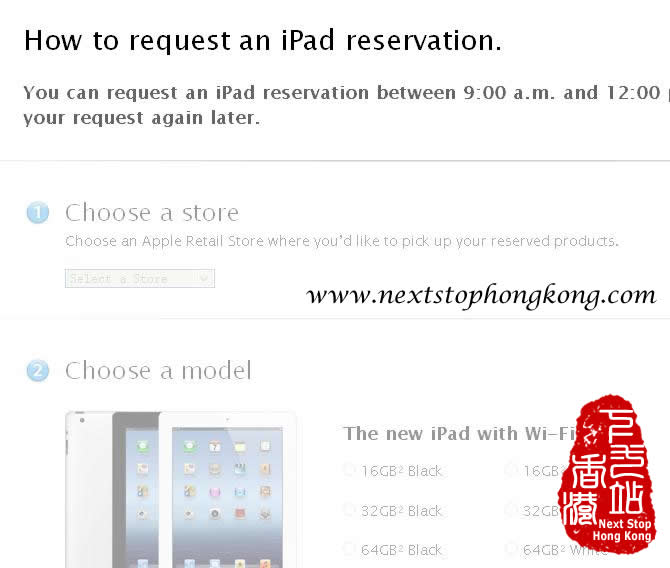 The New iPad Online Reservation
If you really want one, you need to keep a close eye on the news. We will update the news for you ASAP. Good Luck!
Articles you may also like: