The apm shopping mall is located in Kwun Tong and a bit off the normal sightseeing attractions and tourists hotspots. However this mall has over 170 shops, stores and restaurants on eleven floors that it is a great place for doing shopping. You might wonder why the name of the shopping mall is "apm". The name is a combination of "a.m." and "p.m." or day and night. The shopping mall's name reflects the concept and lifestyle of shopping all day long. All shops and stores are open till midnight. Restaurants are open even to 2:00am in the morning.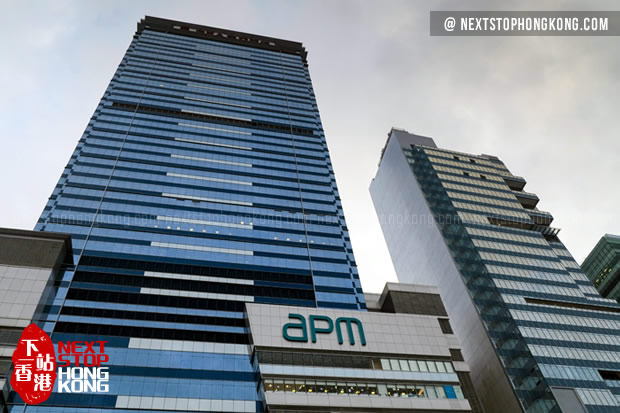 What can you find in apm shopping mall?
apm shopping mall is a relatively new shopping mall in Hong Kong and caters primarily the needs of the young, hip and trendy generations. Talking about restaurants, the majority of tenants are dining and entertainment facilities. The apm shopping mall also houses a cinema, game zone as well as a karaoke bar. The retail shops offer a good mix of fashion (i.t., agnes b., izzue, Fred Perry, Quicksilver, CK, Levi's, Addidas, Puma, Nike, Superdry, etc.) , audio visuals/electronics, beauty and healthcare (Fancl, Crabtree&Evelyn, Kiehl's, shu uemura, Bioderma, Anna Sui, H20, Clinique, L'Occitane, etc.) and lifestyle products (LOG-On, Vivi shop, CD Warehouse, Muji, etc.).
The street Yue Man Square next to the apm represents the true traditional communities, culture and heritage of Hong Kong.The Hong Kong Government has decided to develop this area and demolished the old buidlings and streets. If you visit apm shopping mall and have chances, don't forget to scroll along the old street and experience the real culture of Hong Kong.
Opening Hours: 11:00am-2:00am (Daily)
Enquiries Call: +(852) 3148 1200
Address: Millennium City 5, 418 Kwun Tong Road, Kwun Tong, Kowloon, Hong Kong
By MTR: Take the MTR to the Kwun Tong Station and Exit through A2. Traveling time from TST is about 30 minutes. Expect to pay about HK$ 8.0 for a single journey. If you come from Central expect to pay around HK$ 12.0 for the ticket. Traveling time is roughly the same.
By Bus: Buses 74X and 277X will stop at the apm shopping mall as well as the Green Mini Buses 22M, 34M, 36A, 50, 62 and 63.
Additionally, you can reach the apm shopping mall via Kwun Tong Road with the following buses: 11B, 11C, 11X, 14, 16, 215X, 277X, 258D, 259D, 268C, 269C, 296A, 296C, 38, 40, 42C, 62X, 601, 619, 641, 671, 70X, 74A, 74X, 80, 80X, 83X, 89C, 89D, 93K, 95M, 98A, A22 and E22. Last but not least, you can the following buses via Yue Man Square to reach the apm mall 1A, 13D, 13P, 23M, 3D, 17, 606, 89 and 89X.