<!– START SOCIAL NETWORKING code –>
After the tight schedule of the first day tour and the second day tour, today's trip will be a little bit more relaxing since the first two days involved a lot of walking through the urban streets of Hong Kong. With the third day of our suggested itinerary we would like to show you another side of Hong Kong. Contrary to the bustling and lively street life from yesterday's trip we will head today to one of the outlying islands – to Lantau – home of the giant Buddha.
Before we start our trip today, you can enjoy a typical Hong Kong-style breakfast in Cha chaan teng, where you will find Hong Kong-style drinks such as "Iced lemon tea", "Iced milk tea" and "Yuanyang" (milk tea mixed with coffee). As breakfast, Cha chaan teng usually offers scrambled egg, toast plus ham or sausage, sandwiches. Or you can order some Hong Kong-style soup noodles or fired noodles. The best deal is to take a promotion set that you can save some money. Please be aware that some Cha chaan teng has no English menu.
Ngong Ping 360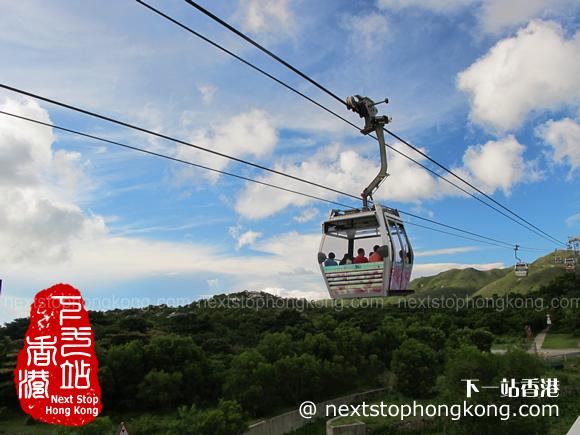 Our first destination will be the Ngong Ping 360 Cable Car – another famous Hong Kong attraction – which will take us later to the Big Buddha on Lantau Island. Although, there are different ways to reach the Giant Buddha statue (by ferry and/or bus) we highly recommend taking the most convenient and less time consuming way with the MTR.
Lantau Island is quite far away from downtown area. So no matter where you stay in Hong Kong, just take the MTR and transfer to the end of the Tung Chung Line. Get off at Tung Chung station and exit through exit B. Then walk about 2-3 minutes to the Cable Car counter.
Then take the Ngong Ping Cable car and enjoy the panoramic views of Hong Kong's Lantau Island and surroundings. If you are not afraid of height, you can consider taking the Crystal Cabin which is built with transparent glass and you can enjoy even the view through the floor. Be prepared to wait in line for around 20-30 min when it is weekend or special holidays.
Ngong Ping Village
When you arrive at Ngong Ping terminus you will exit through a bunch of souvenir shops and the Ngong Ping village is just adjacent to the cable car terminus. You can stroll through the small Ngong Ping Village and either have a short break in the Ngong Ping Tea House (where you have the chance to join a typical Chinese tea ceremony and try several teas and cakes) or if you more for coffee at Starbucks. There are several attractions such as Walking with Buddha (also known as the "trail of enlightenment" which will take you on an immersive journey through Buddha's life stages) or Monkey's Tale Theater (a theatrical Buddhist story with computer generated effects and sounds) you can join if you are interested in the religious beliefs. You have to decide for yourself how much time you would like to devote for the Ngong Ping Village. In our opinion, we would not spend too much time there and highly recommend you to walk to the Giant Buddha statue and adjacent Po Lin Monastery.
Big Buddha and Po Lin Monastery
The Giant Buddha is the largest outdoor Buddha in the world. Prepare to climb 268 steps to reach to Buddha's bottom. We highly recommend you to walk up and promise you that you won't be disappointed and be rewarded with some sweeping panoramic views from Ngong Ping Plateau.
After you climbed down again you can have a look at Po Lin Monastery with its temples and different buildings hosting various figures and gods. In addition, Po Lin Monastery offers some typical and traditional vegetarian monk food. Many people asked us about the vegetarian meals and are curious to try. In our opinion, we would not waste our stomach – but maybe you are still curious and would like to try.
For more information about Attractions on Ngong Ping, you can refer to our article.
Then take the Ngong Ping 360 cable car back to Tung Chung. For the rest of the day you have either the option to go shopping, relax and stroll down Nathan Road in TST or visit some of the museums.
Shopping – Citygate Outlets
Citygate Outlets are just adjacent to the Ngong Ping 360 Cable car terminus at Tung Chung station and good opportunity to do some shopping and bargain hunting. In addition, there are plenty of restaurants to choose from if you feel hungry or just need a break. There is a food corner called "Food Republic" inside Citygate Outlets, where you can find food style from different nations, such us Indian, Shanghai, Hong Kong, Thailand, Taiwan, Japan and etc..
Basically the journey to Lantau Island will cost you almost whole daytime. Afterwards, you can think about take the MTR back to downtown area either Hong Kong Island or Kowloon side.
Suggestions for the evening/night
If you haven't already visited the Symphony of Lights or missed it, we highly recommend you to watch it. You even can watch it in a different side which will bring different view and joy. After that you might want to take a look at Lan Kwai Fong. Lan Kwai Fong is Hong Kong's most famous nightlife district with bars and restaurants. Due to the open facades of the restaurants and bars as well as to Hong Kong's limited space, activities and people will spill out on the streets to celebrate, party and enjoy the nightlife. Otherwise, we recommend Soho to you, which is considered to be the upscale edition of Lan Kwai Fong.
At last, we conclude the plan of this day for your convenience:
Our third tour is relatively simple.
Have your breakfast in [Cha chaan teng] ——— [Go to Tung Chung station by MTR] ——— [Take Ngong Ping 360 cable car uphill] ——— [Walk along Nong Ping Village] ——— [Climb up to Big Buddha] ——— [Take a look at Po Lin Monastery and Wisdom Path] ——— [Take cable car back] – [Shopping in Citygate Outlets] ——— [Take MTR back to downtown area] ——— [Arrange your time freely] ——— [Option 1: Have dinner in Soho /Option 2: Enjoy the Symphony of Lights if you haven't seen]
► Go Back to Mainpage of Tours in Hong Kong (Arrange Your Stay)
► Go Back to Mainpage of Hong Kong Attractions
Articles you may also like: