The Bun Festival is one of the most important Hong Kong traditional Festivals and is on the eighth day of the fourth Lunar month (in 2012 is 28th of April). It began from 18th century to memorize the people who died in plague in Qing Dynasty. The ceremony includes parade of floats, parade-in-the-air and bun snatching (bun scrambling).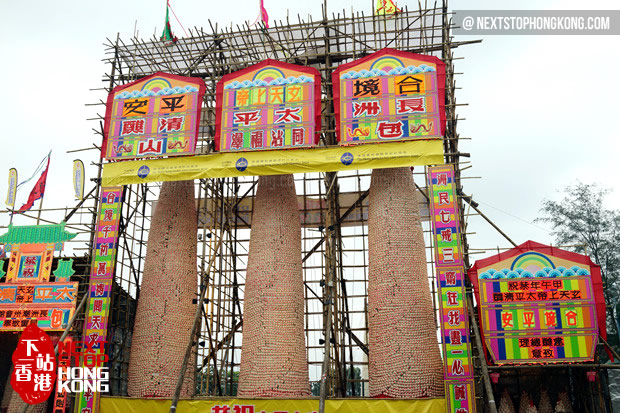 Bun Snatching Competition is the climax of the whole cerebration every year. The Lucky Buns were tied up to a bamboo-made tower over 10-meter high as a Bun Tower and it is said that the more buns you snatch from it the more good luck you will get. Unfortunately in 9th of May 1978 the bun tower collapsed due to over 300 people climbing up together and snatching the buns crazily, resulting 24 people were heavily injured. Hong Kong government decided to stop the competition and not until 16th of May 2005, the Bun Snatching Competition was reintroduced after 26-year suspension.
Nowadays the Bun Festival develops to a great event for not only the residents on Cheung Chau, but also the Hong Kong locals and visitors around the world. In 2011 it has been included into the Third National List of Intangible Cultural Heritage. Last year, over 28 thousands of people went to Cheung Chau to experience this unique day.
The 2012 Bun Carnival is held at the soccer pitch of Pak Tai Temple Playground of Cheung Chau from 8th of April to 29th April, including Training on Bun Tower Climbing (8th of April and 14th of April), Selection of Finalists for the Bun Snatching Competition (15th of April), Bun Tower Climbing Carnival (22nd of April) and Bun Scrambling Competition (28th – 29th of April).
If you are interested, you can attend the competition by downloading and submitting the "Enrolment From for Competition". 200 participants will receive the training for the Bun Snatching technique provided by the China Hong Kong Mountaineering and Climbing Union. 9 male and 3 female finalists will be decided according to the climbing speed. The final competition will be on 11:30pm on 28th of April to 12:25am on 29th of April. The person who snatches buns with the highest score within 3 minute will be the final winner.
You also can read our article: Fighting for Buns – Cheung Chau Bun Festival to know more about this special event.
Cheung Chau is a outlying island of Hong Kong and the most convenient way is to take ferry of Hong Kong's Central Pier. The ride takes about 30-55 minute.