Many Rugby fans from all over the world have been waiting for a long time: the Hong Kong Sevens 2013. From March 22 – 24, 2013 whole Hong Kong will be crazy for one of the most popular annual team sporting event in South East Asia. During these three days, the world's top rugby teams compete in a lightning fast 15 minute matches resulting in an unforgettable fast and furious rugby action combined with a carnival like atmosphere at the Hong Kong Stadium.
For the first time ever (within the events 38-year history), Hong Kong Sevens will host a 28-team tournament in 2013. The Hong Kong Sevens will be separated into two separate competitions: one main competition with 16 teams including the 15 core teams and Asian Sevens Series winners as well as a 12 team pre-qualification tournament.

Be assured that the packed 40,000 seats of the Hong Kong Stadium will transform in an exciting party atmosphere this year with fans dressing up, painting their faces to support their favorite rugby team while pretty girls wearing bikini and cheering for their team they support.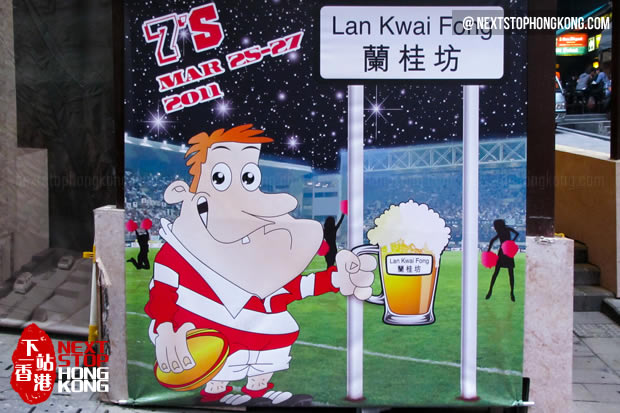 Hong Kong Sevens in Lan Kwai Fong
Where to buy tickets?
Hong Kong Sevens tickets will be first assigned to all Hong Kong Football Union member clubs and HKRFU stakeholders. The rest of the tickets are available through various Official Travel Agents (please refer to the link http://www.hksevens.com/downloads/OTA_List_2013.pdf) or – since Cathay Pacific is one of the main sponsors – through special Cathay Pacific "Fly'n'See Packages" (for more information check Cathay Pacific homepage). In addition, Hong Kong residents had a chance to get their tickets through a Public Ticket Ballot. An Adult's 3-day ticket is priced at HK$ 1,500.

Insider Tips: Usually, the Hong Sevens tickets sell out literally within seconds. In case you haven't been fortunate to get hold of a ticket you still have a chance to experience the carnival party like atmosphere of the Hong Kong Sevens event. Simply visit the Sevens Village near the Hong Kong Stadium and enjoy the match with other rugby fans or visit one of the many bars and pubs in Causeway bay, Wan Chai or Lan Kwai Fong. Last but not least, the streets of Lan Kwai Fong are usually the place where the after party will take place and are decorated with rugby shirts of the different participating rugby teams.

<!– START SOCIAL NETWORKING code –>