When we talk about the famous Hello Kitty, lots of people will be excited. Coming from Japan, Ms. Kitty is already 37 year old. From 1976 till now, she has won not only the heart of fans from Asian countries, such as Japan, China and Taiwan, but also is famous in overseas like Europe and America. No matter where you go, there are always some products related with her, like toothbrush, notebook, stickers, etc.. Since the products are so popular, there are lots of counterfeit products too. So, if you are real fans of Hello Kitty, if you want to know where to buy the genuine products in Hong Kong, you should not miss out this article! (updated in October 2014)
• Sanrio Gift Gate
• Manis
• Vans
• Ki.La.Ra
• Che Che New York
• Chow Sang Sang
• McDonald's
• 7-Eleven
• Octopus Card
• Other places to purchase Hello Kitty Products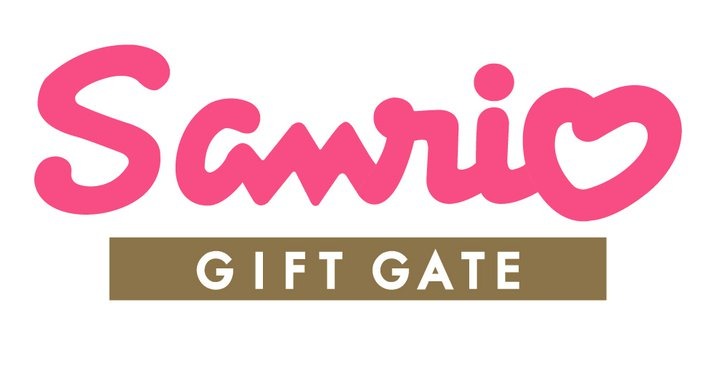 Hello Kitty is very popular in Hong Kong and you will find lots of stores selling Hello Kitty products. The most famous store naturally is the original SANRIO store. It is also where Hello Kitty was created. In Spanish, [San] means Sacred and [Rio] means River. Sanrio's founder believed that the birthplace of human civilization was the origin of river. In order to show the respect to civilization of mankind, he named the store "Sanrio". Most of Hong Kong Sanrio products are Made in Japan. The price is not necessarily favorable than in many other Sanrio stores, but you may have more options and they are absolutely genuine. Besides Hello Kitty, you can also find My Melody, Little Twin Stars, Pudding Dog, Chococat, Charmmy Kitty, Cinnamo Angels, Bad Shin Kan Sen, Kerobi, Kuromi, ect.. The items include stationary, toys, dolls, bags, mugs, lunch boxes, earphone, jewelry and many other things.
Sanrio in Hong Kong has lot of branch stores:
Those close to sightseeing area:
Sogo, 6/F, Jumbo Sogo, Causeway Bay
YATA, New Tow Plaza Phase 3, 2-8 Sha Tin Center Street, Sha Tin
Festival Walk, Level L2, Festival Walk Shopping Center, Kowloon Tong
Toys R Us Ocean Terminal, Toys R Us Basement Level, Ocean Centre, Kowloon

Other Shops:
G/F, APIAT, Cityplaza II, 18 Taikoo Shing Rd, Quarry Bay
Shop G01, G09, G10, Toys R Us, G/F, Olympian City 3, West Kowloon
1/F, Metropole Department Store, 416-425 King's Road, North Point
Shop 239, 2/F, East Point City, 8 Chung Wa Road, Tseung Kwan O
Shop 310, 3/F, Plaza Hollywood, Diamond Hill
Shop 2B-12, Prudential Center, Nathan Road 216-288A, Jordan
Consession TSY5, Tsing Yi MTR station, NT
Level UN3-2, Lok Fu Plaza, Lok Fu Estate, No.198 Junction Road, Kowloon
Un5-10, Piago UNY, Telford Plaza, 33 Wai Yip Street, Kowloon Bay
Aeon:
Kornhill – 2/F, Kornhill Plaza South No.2 Kornhill Rd Quarry Bay
Whampoa – Whampoa Gardens G, F & Basement, 5-6 Site Kln
Tsuen Wan – Level 3 Tsuen Wan Plaza, 4-30 Tai Pa St., Yuen Tun Circuit, Tsuen Wan
Tuen Mun – UG Phase 1 Tuen Mun Town Plaza, 1 Tuen Shun Street, Tuen Mun
Citistore:
Tseung Kwan O – Citistore L2, the Citistore, the Metro Plaza II, Po Lam North Road, Tsueng Kwan O
Tseng Kwan – Citistore Ltd., 2/F., No.301 Town Lot, City Landmark
Yuen Long – 4/F, Citistore Citimall, Yuen Long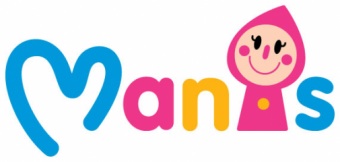 Besides Sanrio, Manis is another large company where you can find items of Hello Kitty and her friends of Sanrio. Manis is authorized by Sanrio and design themselves the Hello Kitty products of different styles.
Manis has lots of stores :
Shops close to sightseeing area:
Sogo, No. 6-40A, 6/F., Sogo Dept. Store, 529-555 Hennessy Road, Causeway Bay
YATA, L2, Phase 3, New Town Plaza
15-17, L11, Langham Place, 8 Argyle Street, Mongkok
Other Shops:
Citistore:
Tsuen Wan – No. P001, Tsuen Wan Store, Citistore Ltd., 1/F., No. 301 Town Lot, City Landmark, Phase 2, Tsuen Wan
Yuen Long – 4/F., Citimall, YLTL 464, Yuen Long
Ma On Shan – 3/Fl., Sun Shine City Plaza, L318, On Luk Street, Ma On Shan
Tseung Kwan O – L2, Metro City, Phase 2, Tseung Kwan O
Tai Kok Tsui – G/F, Metro Harbour View, 9 Fok Lee Street
Aeon:
Kornhill- 2/F., Kornhill Plaza South, 2 Kornhill Road, Quarry Bay
Tsuen Wan – Level 3, Tsuen Wan Plaza, 4-30 Tai Pa Street, Yuen Tun Circuit, Tsuen Wan
Whampoa – G/F & Basement One, Site 5&6, Whampoa Garden, Hunghom
Tuen Mun – UG/Floor, Phase 1, Tuen Mun Town Plaza, 1 Tuen Shun Street, Tuen Mun
Kowloon Bay – L1, Megabox, 38 Wang Chiu Road, Kowloon Bay
G/F., 56 San Hong Street, Sheung Shui, New Territories
G/F-2/F, the Podium of AquaMarine, 8 Sham Shing Road, Lai Chi Kok
1/F, Wing On Centre, 211 Des Voeux Road Central
If you compare the address of Sanrio and Manis, you will find most of locations where there is a Sanrio shop, there is a Manis shop. Therefore, if you want to have more shopping options, why not choose an address with both shops?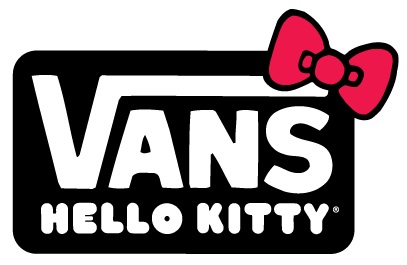 Entering Hong Kong market in 2009, Vans has special designed Hello Kitty shoes for you. Lots of large shopping malls has Vans branch stores already. The most convenient for tourists should be the one inside LCX of Harbour City in Tsim Sha Tsui.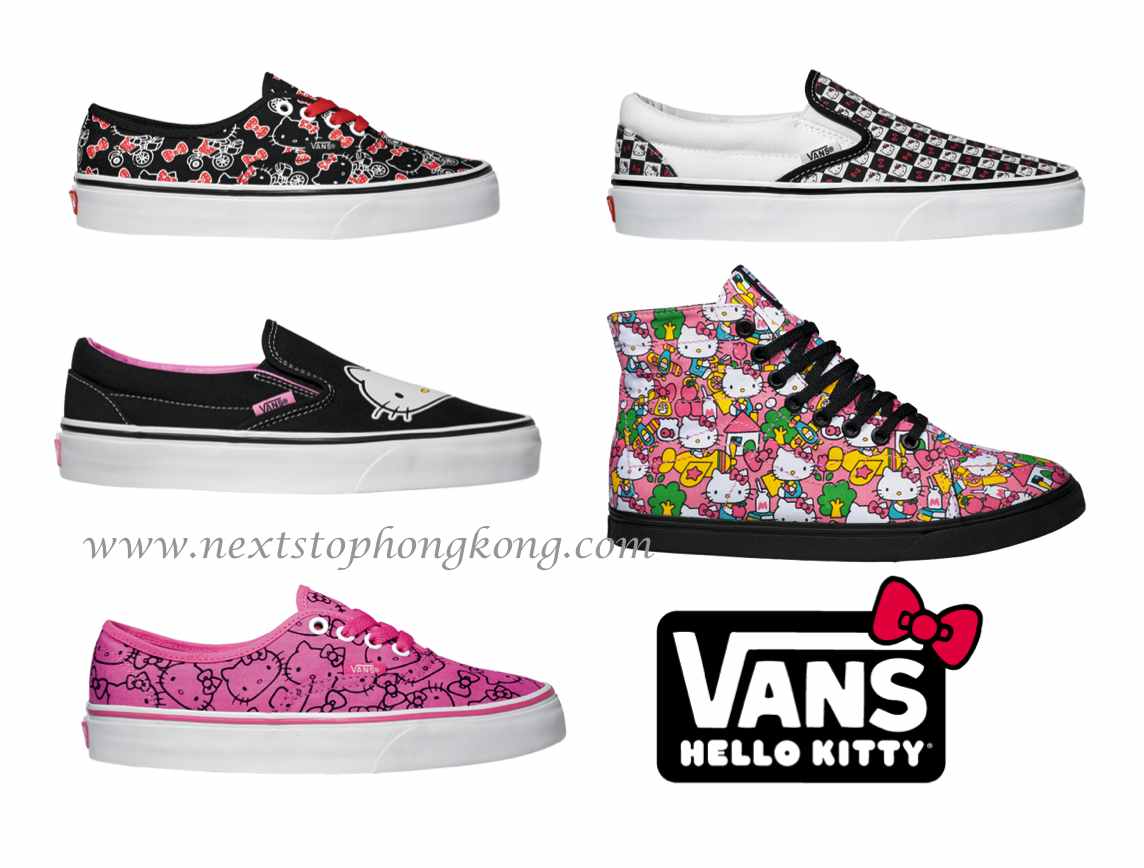 (Picture Source: Hong Kong Vans)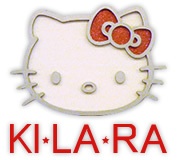 Ki.La.Ra. is a brand under Sanrio, mainly selling clothes designed with Hello Kitty. The clothes of Ki.La.Ra are mainly fresh and lovely style, targeting the young girls. For the moment, Ki.La.Ra has stores in Citylink Sha Tin, Langham Plaza Mongkok, Sogo T.S.T..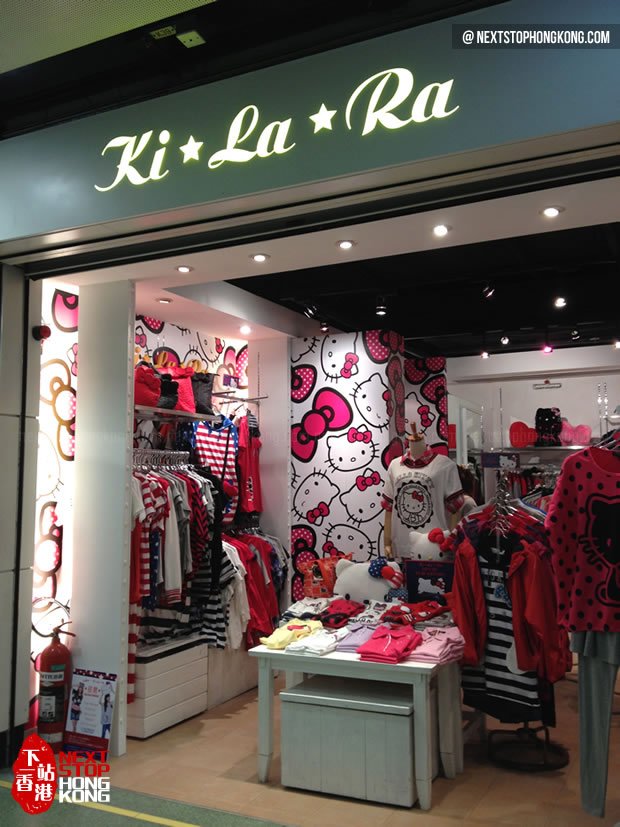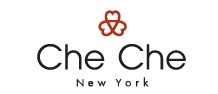 Che Che New York focus on handbags and jewelry. They also have the products designed with Hello Kitty. Che Che New York has 4 chain stores in Hong Kong now:
Festival Walk – Shop L1-38, Festival Walk, Kowloon Tong
K11 Art Mall – G14, K11 Art Mall, Tsim Sha Tsui
TDC Design Gallery – Level 1, HK Convention and Exhibition Centre, 1 Harbour Road, Wan Chai
TDC Design Gallery – 6T529, Level 6, Departure Hall, Terminal 1, Hong Kong International Airport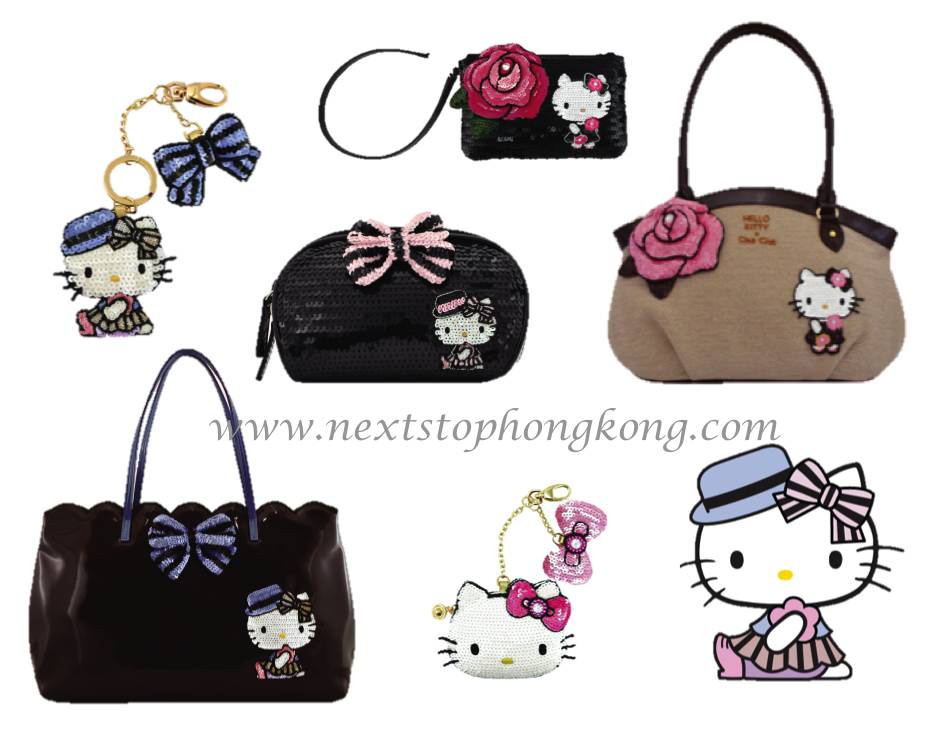 (Picture Source: Hong Kong Che Che New York)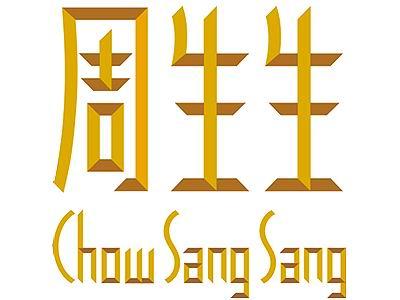 Chow Sang Sang is famous jewelry company in Hong Kong. Besides the traditional design of jewelry, they also break through the traditional concept of jewelry design and design the Hello Kitty-themed series of jewelry, including necklaces, bracelets and ornaments. The Hello Kitty Around World ornaments and necklace have unique design and Ms. Kitty has been to Beijing, Xi'an, Shanghai, Hong Kong, Macau, Spain, America, Japan, Korea and so on. If you are interested, you can consider to take a look when you pass by. Chow Sang Sang has lots of stores in Hong Kong. You can click the link to learn more details of the stores of Chow Sang Sang in Hong Kong.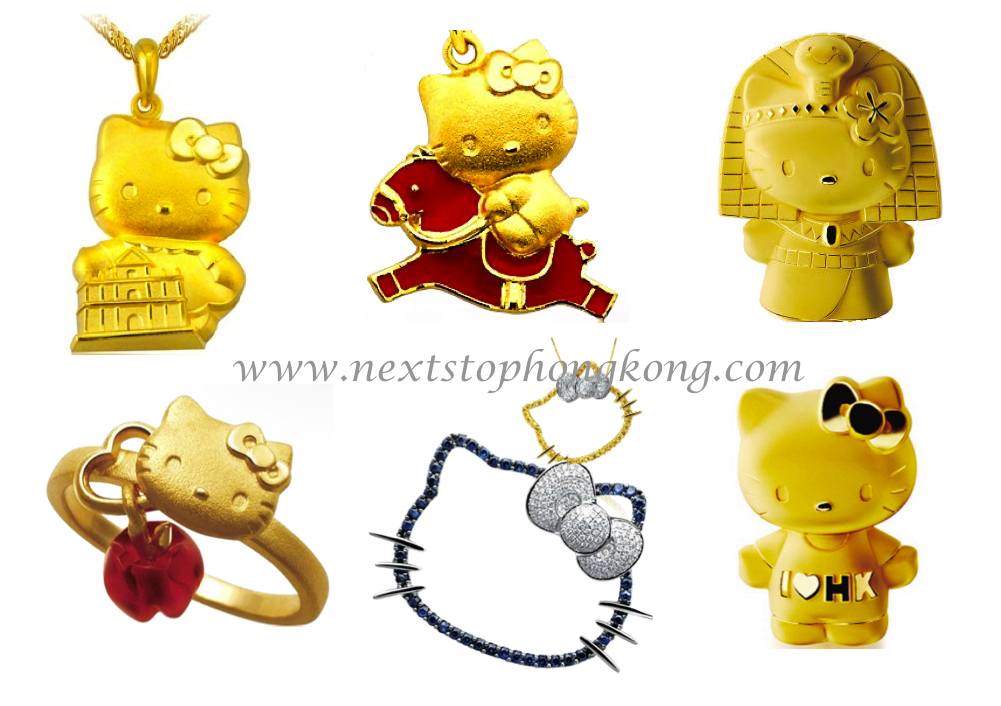 (Picture Source: Hong Kong Chow Sang Sang)
Hong Kong McDonald's launches a set of special edition Hello Kitty toys every once a while. Especially around Xmas and New Year, the Hello Kitty toy will have the best quality and gets Hong Kong people crazy. Usually it will be sold out soon, so if you would like to have one, you have to hurry up!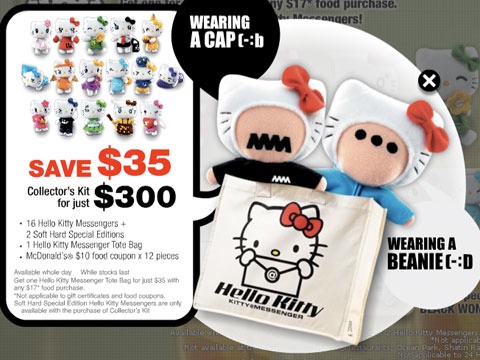 (Picture Source: Hong Kong McDonald's)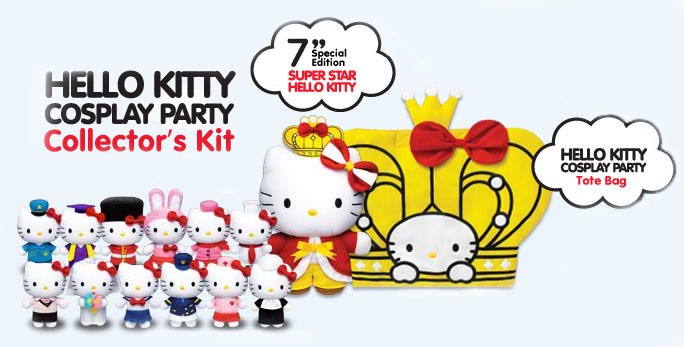 (Picture Source: Hong Kong McDonald's)
Nov. 2011, McDonald's has re-launched McDonaldland X Hello Kitty special edition toys. Upon any purchase with extra HK$25, you can redeem one.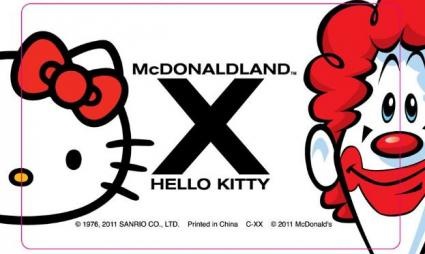 (Picture Source: Hong Kong McDonald's)

(Picture Source: Hong Kong McDonald's)
The recent "Hello Kitty Fairy Tale" from McDonalds's (launched in July 2012) was another hot collection for all the Hello Kitty fans.
Hello Kitty has obviously become the best marketing tool in many businesses. 7-Eleven will not miss the opportunity. Like McDonald's, 7-Eleven Hong Kong will launch a special collection of Hello Kitty gifts around Christmas and New Year. For example, on the Hello Kitty 35th Anniversary two years ago and the Sanrio 50th Anniversary of last year, 7-Eleven has launched special editions of cellphone accessories and bracelets.
(Picture Source: Hong Kong 7-Eleven)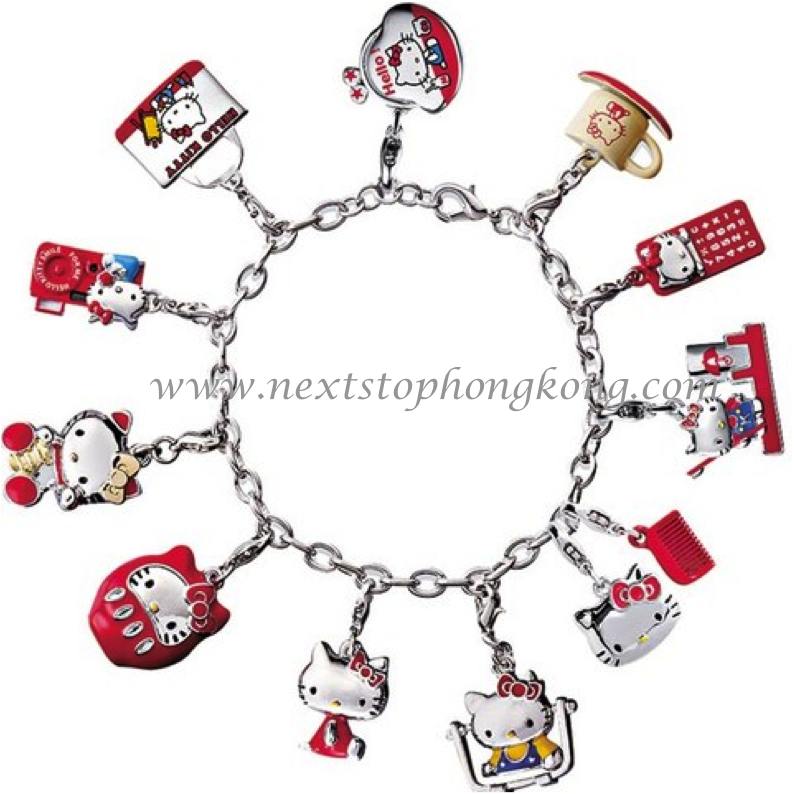 (Picture Source: Hong Kong 7-Eleven)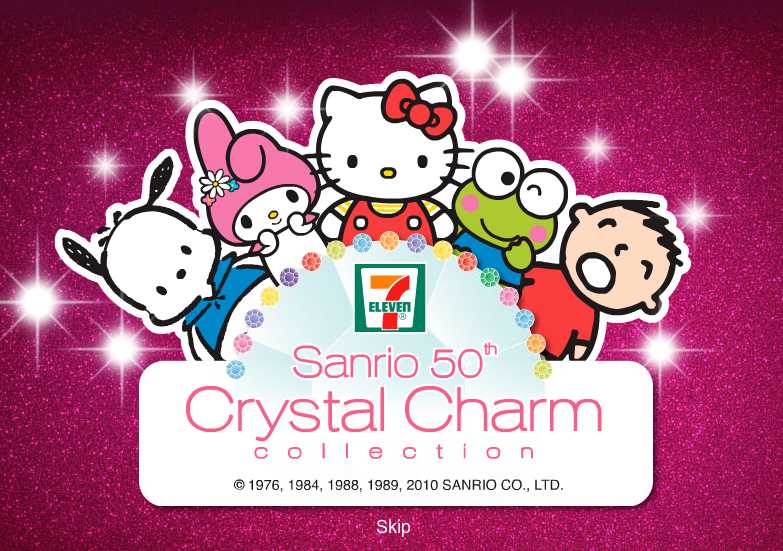 (Picture Source: Hong Kong 7-Eleven)
Last year 7-Eleven had a Hello Kitty-themed promotion (Hello Kitty X tokidoki). You can refer to our earlier post Hello kitty X tokidoki in 7-Eleven or the cute article on www.followkitty.com where you can get more detailed information.

(Picture Source: Hong Kong 7-Eleven)
Hong Kong Octopus Company from time to time will launch the sold octopus card set with Hello Kitty as the theme. The average price is HK $168 and it is always a special designed sold octopus card along with an accessary for cellphone or handbag. This octopus is normally sold in convenient store such as 7-Eleven and Circle K. If you have interests, you can consult the staffs of all the convenient stores.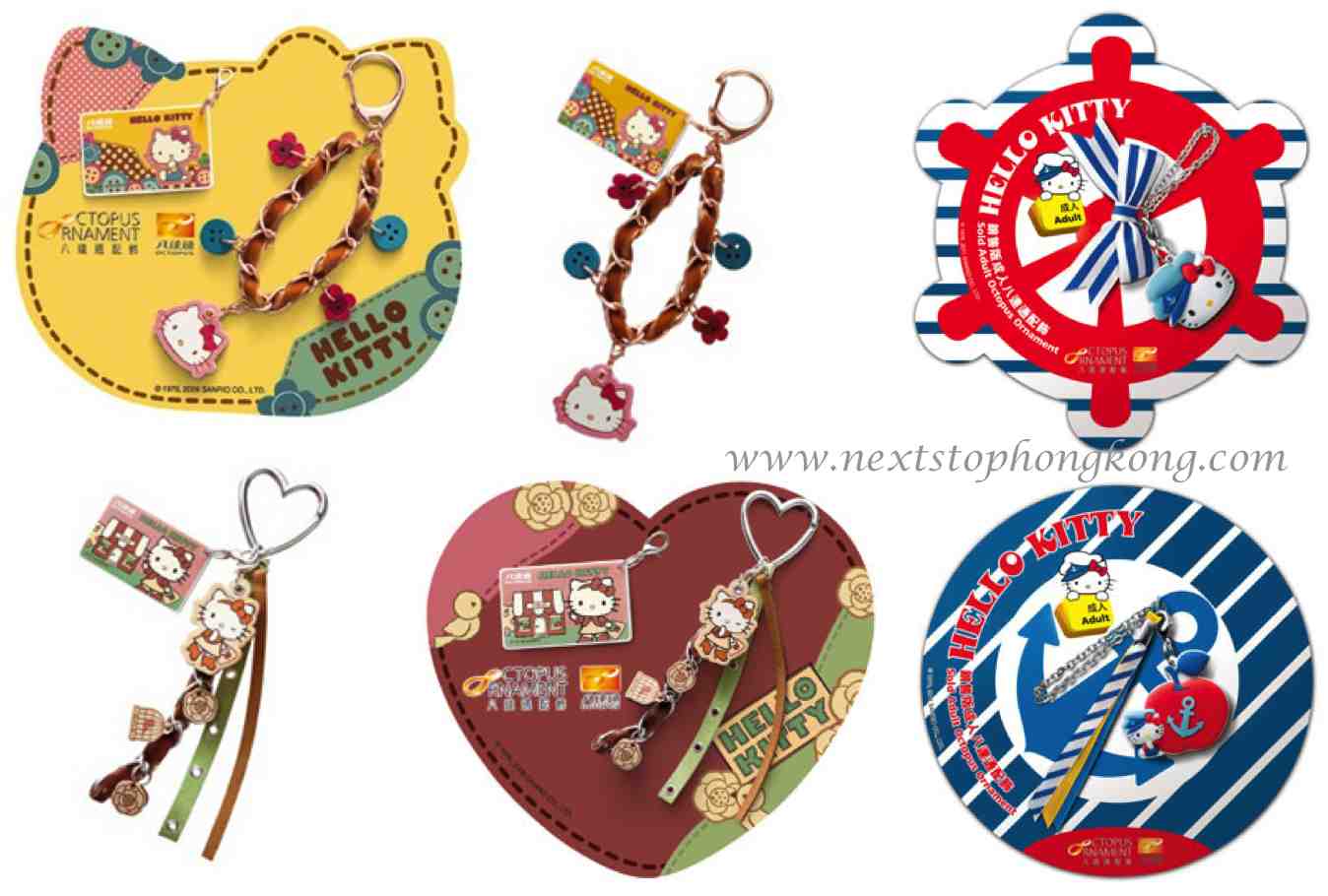 (Picture Source: Hong Kong Octopus Company)

In addition, if you would like to purchase a suitcase, you can take a look on the L2 of YATA Sha Tin (at the end of this floor). There are Hello Kitty suitcases on sale all the time.

Hong Kong cosmetic chain stores SaSa and Bonjours have Hello Kitty-themed cosmetic products, such as shower gel, hand cream, soap, mascara and other cosmetic tools. Lots of items are imported from Europe (such as Made in Germany) and have limited stock. So if you plan to buy some, be quick!

If you would like to take some sweet smell Hello Kitty perfumes, we recommend you to have a look in the LCX in Harbour City shopping malls. There is a counter selling several different Hello Kitty perfumes with cute packaging.

Little Tips:there will always be promotion in Hong Kong around Christmas and New Year. During the promotion, the shopping mall will be completely crowded, but the price is very tempting. So if you want to do some bargains, be prepared for the incredible crowds. (You can refer to out earlier post about YATA promotion to get ready for the crowded shopping adventure).

If you are a Hello Kitty fan, you may also like this website : www.followkitty.com where you can find articles about Hello Kitty products in Hong Kong.

Other Shopping Options and Tips

<!– START SOCIAL NETWORKING code –>