This classical crossover group will return to Hong Kong and present their fans a stunning visual and great musical show.
Do you know that the vocal group Il Divo is created also by music manager and executive Simon Cowell, who also created the famous Westlife, Gareth Gates as well as Will Young. If you don't know who Simon Cowell is, you may hear about "Britain's Got Talent", "American Idol" or "The X Factor", which are the most popular TV shows worldwide. He is not only the judge but also the producer of some of the TV shows.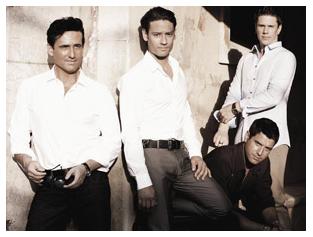 To all the fans of Il Divo, on 18th of March, they will have a concert in Hong Kong.
Il Divo has four members: David Miller, Sebastien Izambard, Urs Buhler and Carlos Marin, who are coming from America, Spain, Swiss and Germany respectively. All together they have sold more than 26 million albums around the world.
On 2007 and 2009, they have been to Hong Kong for their concerts. This time they will perform the songs from their latest album "Wicked Game" with orchestra.
If you stop by Hong Kong during this period of time and you are the fan of them, don't forget to grasp a ticket when it is still available. Don't worry that you are not in Hong Kong now, because you can order the ticket of Il Divo Concert online.
About the concert:
Admission is from HK$ 380 to HK$ 1280 and the venue is Hong Kong Convention & Exhibition Center – Hall 5BC. Refer to our article Hong Kong Convention and Exhibition Center to know more details about the location and how to get there.
After Hong Kong concert, they will continue their journey to Stockholm Sweden (24/3), Frederiksberg C Danmark (25/3), Antwerpen Belgium (29/3), Cardiff UK (15/4), Rotterdam Netherlands (26/4), and the last station is Madrid Spain (27/4).