After the promotions of Limited MTR Cute Speakers and Limited MTR Angry Birds Tickets, Hong Kong MTR Corporation launches another set of MTR Train memorabilia.
Starting from May 20th, 2012, MTR will offer three versions of cute MTR train pen "MTR Q Train Pen with Magnet" in three consecutive weeks. This "MTR Q Train Pen with Magnet" is designed according to the trains of Hong Kong Island Line, East Rail Line and Airport Express.
The first cute MTR Q Train Pen is Hong Kong Island train and will be launched on 20th of May. In the second week starting from May 27th, 2012, the MTR Train of the East Rail Line will be available. Starting from June 3rd, the MTR Airport Express Train pen will hit the sales counter of the MTR customer services.
Each MTR Q Train Pen is also equipped with a magnet. The original price of the Limited MTR Q Train Pen with Magnet is HK$ 50 per version, but due to this special promotion you are able to get it already for HK$ 38. In case you are interested in these special MTR memorabilia, we highly recommend acting fast. Since this is a Limited Edition set, it will be available only while stock last and as the past shows will sell out quickly.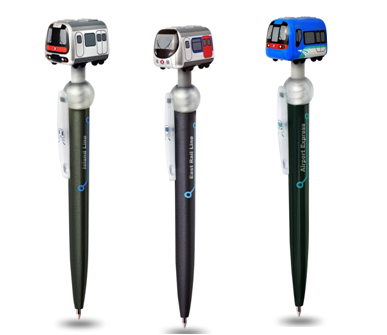 (Note:The copyright of the above picture belongs to Hong Kong MTR)
Where to buy the Limited MTR Q Train Pen?
The Limited MTR Q Train Pen is available at all MTR Customer Service Centers (unpaid area) except the Airport Express, Lo Wu, Lok Ma Chau, Disneyland Resort and Racecourse stations. In addition, you also can try your luck at the MTR Travel Station in Admiralty Station (Shop 24, near Exit B).
Opening Hours: 8:00am – 7:00pm (daily)
Enquiries:+(852) 2822 4800