Great news for all Ocean Park Fans: Ocean Park announced a special collaboration with the convenient store chain 7-Eleven. Ocean Park tickets can now be purchased at over 900 7-Eleven Outlets throughout Hong Kong which is a fast and convenient way to get tickets for your favorite Theme Park without wasting time queuing at the Ocean Park's main entrance ticket counters.
Currently, you are able to purchase Ocean Park Adult Daytime Tickets (HK$ 280) as well as the Ocean Park Child Daytime Tickets (HK$ 140) at all Hong Kong 7-Eleven convenient stores. Tickets can be purchased within a few seconds at the 7-Eleven stores and are valid for the period of one month. Once you get the electronic Ocean Park ticket (or e-ticket), the only thing you need to do is to scan the barcode on your electronic Ocean Park ticket at the Ocean Park main entrance turnstiles to gain instant admission to the Ocean Park. No need to line up in queues, no hassle and no more wasting time at the ticket counters. Purchasing the Ocean Park Tickets at 7-Eleven is a convenient alternative and we highly recommend taking this new option into your consideration when purchasing tickets for the popular Ocean Park.
In addition, for all customers who are purchasing the electronic Ocean Park tickets at all the 7-Eleven stores from now until May 31st, 2012 will receive a HK$ 100 cash voucher to use for food and beverage inside the Ocean Park. Last but not least, guests visiting any restaurant within the Ocean Park will receive a complimentary Mother's Day and Father's Day Special Drink.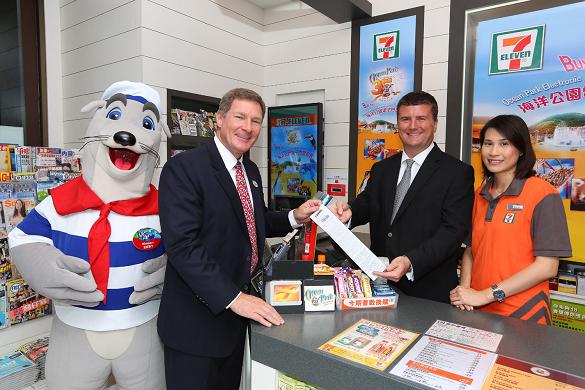 Chief Executive Officer of 7-Eleven and Chief Executive of Ocean Park Hong Kong promote new E-Ticket together
(Note: The copyright of above picture belongs to Hong Kong Ocean Park)