The Octopus Corporation just launched a new octopus card. This card is especially designed for tourists and worthwhile for those who just stay for a short period in Hong Kong and/or would like to have a memorable souvenir.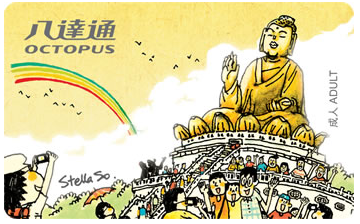 The back of the Octopus Card has a beautiful cartoon drawing of one of Hong Kong's most famous attractions: Tian Tan Da Fo or also known as the big/giant Buddha statue close to Ngong Ping 360 Cable Car.
The Special Edition Sold Tourist Octopus is a kind of "Sold-Octopus Card" which means it has no deposit and is non-refundable. This tourist octopus card functions as a normal Adult Octopus Card and costs HK$ 150 with a initial stored value of HK$ 80. In addition, each card comes with coupons and vouchers from 7-11, TSL, Mannings, Wellcome, Chung Yuen etc. (worth approx. HK$ 650). Furthermore, people who purchase this Special Edition Octopus Card have a chance to win a HK$ 280 theme park ticket or cash vouchers of HK$ 50.
Where to purchase this Special Edition Tourist Octopus?
The Special Edition Tourist Octopus can only be purchased at 7-11 stores in Hong Kong. We recommend you to act fast and get one of this Special Edition Tourist Octopus as soon as possible. There is a high chance that this Special Edition Card will be sold out in a short time since local Hong Kong people like to collect this Special Edition cards as well.
Not quite so attractive as the above mentioned Special Edition Tourist Octopus Card? There are some other special Octopus Cards with the characters of "Old Master Q" available.

(The copyright of the pictures in this post belongs to Hong Kong Octopus Corporation)

The "Old Master Q" Special Edition Octopus Card is also a "Sold-Octopus Card". Usually, these limited and collectable Octopus cards are not issued with an initial deposit and don't have coupons and/or vouchers with it. Nonetheless, these "Old Master Q" Special Edition Octopus Cards are very nice designed and do have some charm especially since the character of" Old Mister Q" is close connected with Hong Kong, its culture and history. The "Old Master Q" Special Edition Octopus Cards are available for Adults, Kids as well as for seniors. Each "Old Master Q" Special Edition Octopus Card sells for HK$ 98 and is available only through 7-11 outlets or can be purchased online directly from the Octopus Corporation.

<!– START SOCIAL NETWORKING code –>