Hong Kong is well-known as a place where east meets west. Chinese traditions as well as western traditions can be found here and will be celebrated. This is especially true for the Halloween tradition. On this special month, Hong Kong welcomes their guests with various celebrations.
Hong Kong Disneyland
From 22nd of September to 31st of October, 2011 Hong Kong Disneyland visitors will have a chance to enjoy the "Haunted Halloween".
Visitors can "head into the dark side of Disney" and attractions include "Revenge of the headless Horseman", "Glow in the Dark Parade", "Main Street USA – Ghost Town", "Cursed Jungle in Adventureland", "Ghostly Dances", "Tomorrowland Party Zone" and "Trick and Treat Spooktacular in Fantasyland".
For all the Disney- lovers and toy-collectors among you: Hong Kong Disneyland launched a special "Haunted Halloween Souvenir" collection. These items are only available for a limited time – so make sure to take a look at these spooktacular Disney toys.
In addition, Disneyland targets with their "Haunted Halloween" event especially their young and fashion-savvy guests and launces some special features for people with iPhones and iPads. Make sure to download and install the "Disney's Haunted Halloween App" at your device. Disney's "Haunted Halloween" will surprise you with new augmented reality (AR) technology and features. So make sure to take your iPad/iPhone with you to enjoy all of the fun!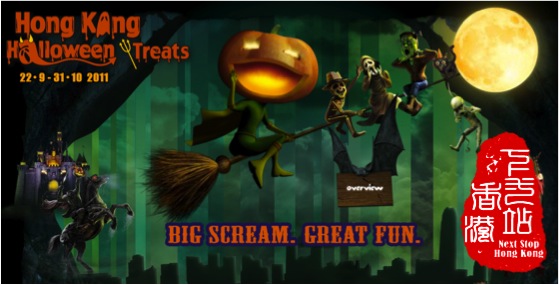 (The copyright of the pictures in this post belongs to Hong Kong Tourism Board.)
Ticket-prices:
Full day tickets are available for HK$ 399 (adult), HK$ 285 (child age 3-11) and HK$ 100 (seniors aged 65 and over).
In addition, there are special Night Tickets available for all of you who just want to enjoy the scary nights at Disneyland. Tickets are HK$ 228 (for all guests starting age 3 and above). Be aware that the admission time is from 18:00 (6:00pm) till 23:00 (11:00pm).
Hong Kong Disneyland operates their park with extended opening-hours during the "Haunted Halloween" event. The park is open till 23:00 (11:00pm) every Thursday to Sunday. In addition, the park will extend the opening-hours on October 4th (Tuesday) as well as October 31st.
For more information about Hong Kong Disneyland please read our related article.
Special Upgrade Offer for Hong Kong Disneyland Haunted Halloween from Circle K for HK$ 1:
This promotion is for all of you who cannot get enough of Halloween and would like to try different methods to "lose your head".
Customers can upgrade their regular "Night Tickets" to "Disney's Haunted Halloween Thursday Night Pass" at outlets of the convenience store chain "Circle K" for just HK$ 1. With the "Disney's Haunted Halloween Thursday Night Pass" visitors have the chance to enjoy unlimited admission to the park every Thursday throughout the Haunted Halloween period (from September 22nd to October 27th, 2011). To our opinion that's not a bad deal! Just HK$ 1 on top of the regular price and you can enjoy the park several times. All you need to do is to get to the next Circle K and purchase the "Disney's Haunted Halloween Thursday Night Pass" for a total of HK$ 229.
Hong Kong Ocean Park
Hong Kong Ocean Park, the main competitor of Disneyland in Hong Kong, will transform their park to "The Republic of Halloween" and launch their own Halloween event called "Halloween Bash".
From 23rd of September to 31st of October daily 5:30pm to 12:00pm midnight, you have chance to celebrate the event in the Republic of Halloween. More than 20 scary themes are awaiting you. Visitors can try their courage through the Ghost Zones, such as "Fear Factory", "Nightmare in 3D", "Macabre Studio", "Torture Chamber of the Dragon Empress", "The bloody workshop", "Paper Doll Paradise", "The last bus" as well as "Zombie Mayhem".
Similar to Disneyland, Ocean Park prepares a series of stationary items related with the ghost themes, such as Luo Pan iPad cover, paper money notepad and the mini Bagua mirror keychain. They also provide visitors limited-edition paper gift bags.
Ticket-Price:
Different prices of night ticket are available on different dates. Special discount price is offered on 23rd to 25th of September for HK$224 (adult). From 30th of September to 31st of October, all the Monday to Friday and Sunday, ticket price is HK$280. On all the Saturdays from above period, ticket price is the highest, about HK$325. SmartFun Annual Pass holders can enjoy a 50% discount of the above prices. All the prices for child (aged 3-11) are half price of the adult tickets.
Ocean Park also provides other choice of tickets with higher price. They are:
-The Privilege Ticket (HK460): you can enjoy an unlimited fast entry to all the attractions;
-The Privilege Ticket Dinner Combo (HK$680): Besides an unlimited fast entry to all the attractions, you also can enjoy a Halloween dinner and a Halloween souvenir;
-Monster Mash Party (minimum two persons HK$795)
If you are a Full-time University Student, don't forget to bring your student ID with you, because you can enjoy a price of HK$260 as a student.
Not Scary enough for you yet? There are more choices.
Madame Tussauds Hong Kong
From 22nd of September till 31st of October daily 2:00pm till 10:00pm, Hong Kong Madame Tussauds wax house presents "Scream@ Frankenstein's Lab" to all the visitors. Spider webs, horrendous instruments, bloody figures will bring you a frightened but memorable journey.
Lan Kwai Fong
If you like to celebrate Halloween, don't miss to take a look in Lan Kwai Fong. This year 30th to 31st of October after 6:00pm till midnight, there will be a largest street party with unpredictable demons next to you. Imaging to be surrounded by the cool and mystery Halloween layout in the dark and spooky night, holding a bottle of beer or sitting next to the delicious food, what are you hesitating for?
Avenue of Stars
When dark night comes, all the dressed-up ghosts will come out to scare the tourists passing by. During 21st till 31st of October 7:00pm to 10:00pm, the Hong Kong Tourism Board arranges lots of surprises on the Star Avenue to the guests. Why not come and enjoy the free but fantastic thrills and various street performances. Can you feel the cold sweat is dripping down your forehead and the chills running down your spine? Are you ready for a fun nightmare?