The 2018 Hong Kong Chinese New Year Flower Markets is one of the biggest events of all the 2018 Hong Kong Chinese New Year celebrations. If you happened to be in Hong Kong during the second week of February 2018, you definitely should not miss the chance to visit one of the Chinese New Year Flower Markets, or called Lunar New Year Flower Fair. It will start one week before the 1st day of the Chinese Lunar Calendar and kick off the festive Chinese New Year season and festivities. In 2018 the Chinese New Year starts from the 16th of February 2018. Thus, this year's Hong Kong Chinese New Year Flower Markets will be from the 10th to 16th of February 2018.
In case you are interested in other 2018 Hong Kong Chinese New Year celebrations as well as what else Hongkongners do, you can check the following article:

More to Know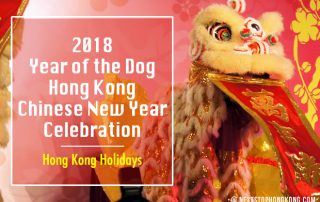 Kung Hei Fat Choi – Top things to do during 2018 Chinese New Year in Hong Kong
Chinese New Year is THE most important festival in Hong Kong. The 2018 Hong Kong Chinese New Year Celebrations are much more than fireworks, night parade and Lunar New Year fair…
What can you do on the 2018 Hong Kong Chinese New Year Flower Markets ?
Similar to Christmas markets in Germany, Austria or Swiss, the Chinese New Year Flower Markets opens up the holiday season and brings the festive spirit with their colorful and aromatic displays of flowers. As a typical tradition in Hong Kong, usually the whole family will visit the flower market together to pick and buy some auspicious flowers and plants for good luck for the upcoming New Year.
However, although it is called "flower market", it is much more than just flowers. Besides all the auspicious flowers, there are also many traditional food stalls, Chinese New Year gifts and souvenirs (this year will be related to Dog), even some funny political stalls. Visiting one of the Hong Kong Flower Market is a great way to dive into local customs, enjoy some of the delicious local food treats, or pick up one of the unique Dog Year related souvenirs. Are you ready to pick your lucky bloom for 2018?
Auspicious Flowers and Plants on Chinese New Year Flower Markets
Similar to the Western world that family will prepare a Christmas tree, buying a pot or a bunch of specific flower/plant is very important before Chinese New Year in Hong Kong. Most of the flowers and plants are believed to bring good luck, wealth and prosperity. No matter whether people are religious, everyone would love to put some "Lucky Plants" for good Fengshui. If you pay close attention you will notice that almost every shopping mall, restaurant and shop are beautiful decorated with these kind of plants.
Each year, there will be hundreds of flower stalls in the Chinese New Year Flower Markets. You will probably encounter people carrying flowers or plants on the street or in the metro during that time. Why not come and stroll through the beautiful and colorful Flower Markets and join the locals to search for the perfect bloom.
Narcissus, peach blossoms, orchids, lucky bamboo etc are the very popular flowers on the Chinese New Year Flower Markets. However, there are also flowers like chrysanthemum, daisy, gladiolus, lavender, lily, mouton peony, tulip, azalea and many more.
Popular auspicious flowers and their meanings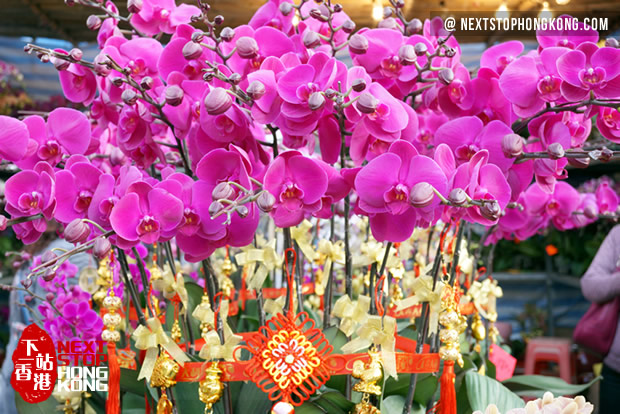 Moth Orchid (蝴蝶蘭)
Most popular CNY flowers in Hong Kong, due to its splendid color, easy taking care and long flowering time. It has a beautiful local name : butterfly orchid.
Meaning: Blessing and good luck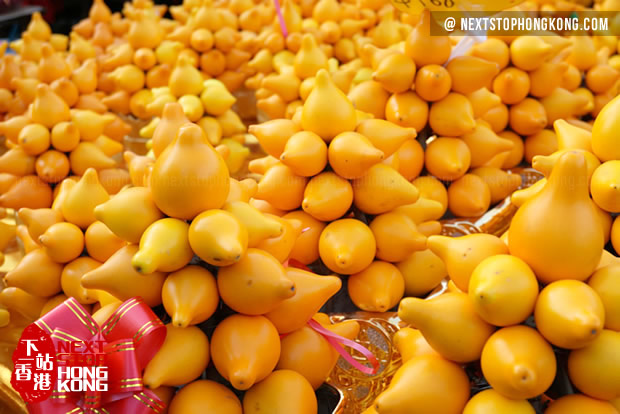 Nipplefruit (五代同堂)
Unlike the English name, the Cantonese name of nipplefruit is "five generations together".
Meaning: Bless family safety from generation to generation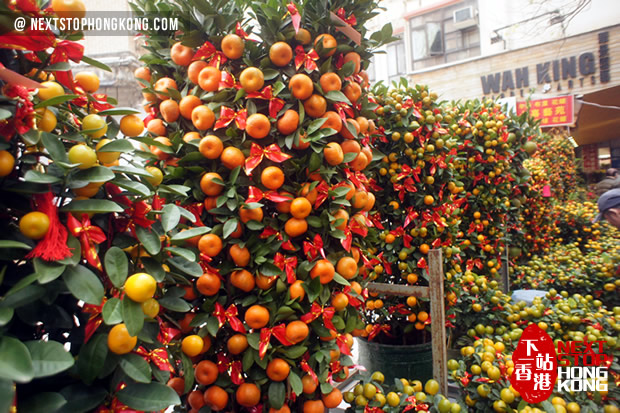 Golden Mandarin Tree (年桔)
The golden oranges on the tree is like many gold or ingots hanging. Also the pronunciation of orange in Cantonese is similar to "Good luck".
Meaning: Good luck, rich, aupicious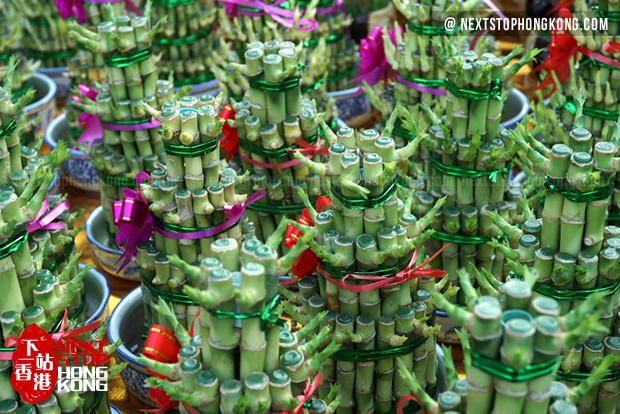 Lucky Bamboo (開運竹)
Lucky bamboo is not only available during Chinese New Year, it is also a common decoration throughout the year. Its Cantonese name is "rich bamboo".
Meaning: Family joy, good luck, promotion in career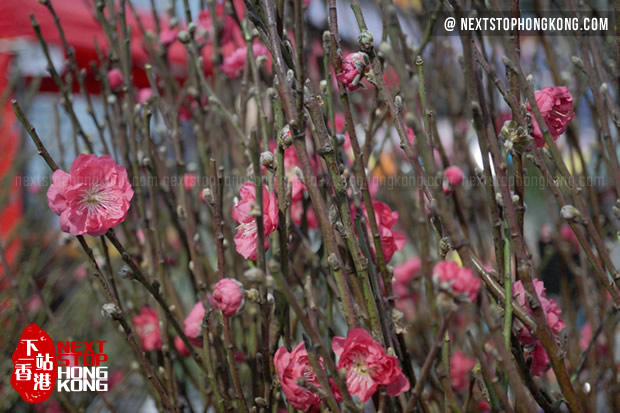 Peach Blossom (桃花)
Peach blossom represent good luck in romance. The pronunciation of "peach" is similar to "Ambition" in Cantonese.
Meaning: Good relationship, great ambition, booming business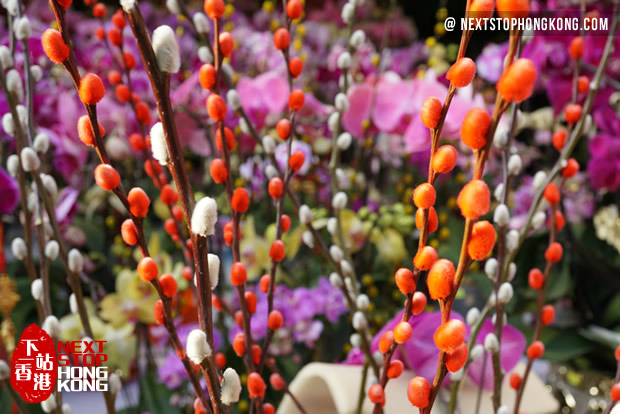 Pussy Willow (銀柳)
Pussy willow's Cantonese pronunciation is "ngan lau", which is close to "Silver House".
Meaning: Have prosperity and have a house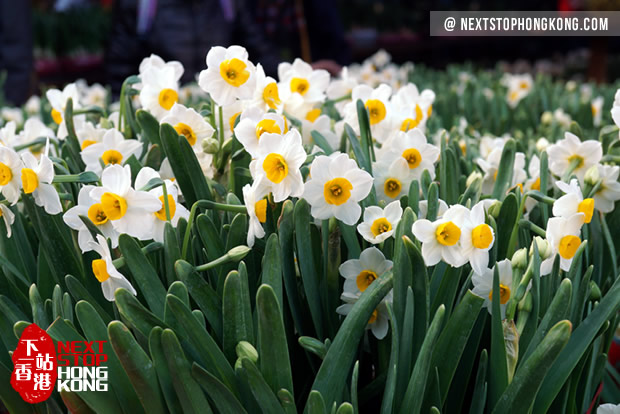 Narcissus (水仙)
If narcissus can blossom on the 1st day of CNY, it is considered as great luck. Locals love to buy the ones before blossom from the flower market.
Meaning: Auspicious, full of infinite happiness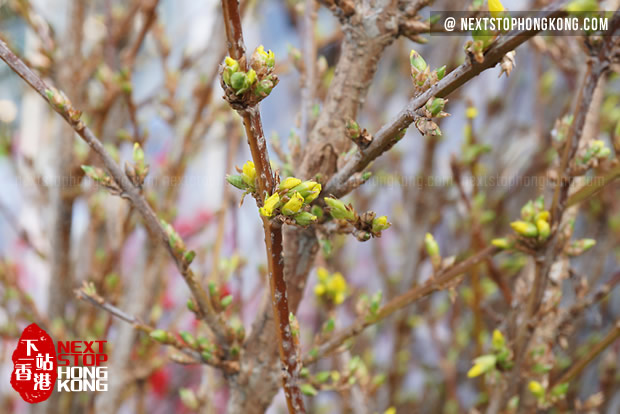 Winter Jasmine (串串金)
Winter Jasmine has a cute Cantonese name : Strings of gold. The name already indicates its auspicious meaning.
Meaning: Prosperity, fortune and good luck
What's More on 2018 Hong Kong Chinese New Year Flower Markets
Besides of row of flower stalls, there are also hundred of stalls displaying, selling and promoting food, toys, Chinese New Year decorations, household items. If you visit the flower market in Victoria Park, at the end of the park, there is always a row of stalls representing different political parties, who are making fun of Hong Kong's politicians.
Stalls with Chinese New Year Souvenirs
Every year, you will always find the traditional hand-made wind chime stall.
There are also many stalls selling goodies related with Chinese New Year. Lots of high school and university students design some unique souvenirs and try to sell on the flower market. This year, you should find a lot of dog element.
Stalls with Traditional Local Food
Among all the souvenir stalls, you will find from time to time some stalls with Hong Kong traditional bakery and snacks. You can try it right away or pack some home.
Each Chinese New Year Flower Market also provides fresh cooked food and snacks. You don't need to worry about hunger if you stay long inside. Usually you will find the local street food, like stinky tofu, curry fish balls, faux shark's fin soup etc as well as pizza, chicken skewer and many more.
Stalls of Different Political Parties
You will always find a row of stalls on the end of Victoria Park, representing the local political parties. Every year, they will also create some souvenirs related with Chinese New Year, as well as making fun of the local politicians.
Where are the 2018 Hong Kong Chinese New Year Flower Markets?
There are actually 15 Chinese New Year Flower Markets in Hong Kong, 6 are in Hong Kong Island, Kowloon and Outlying Island, while the rest 9 are in New Territories. The biggest and most popular Flower Markets are located in:
Victoria Park (Causeway Bay, Hong Kong Island) and Fa Hui Park (Sham Shui Po, Kowloon).
If you cannot make to the above two flower markets, you can check other options. Usually the others are smaller and are off the beaten tourist tracks. Some are located close to major sightseeing or shopping attractions and can easily be incorporated in a normal tour itinerary. You can check out which one is closer to your hotel or staying location.
Morse Park (Wong Tai Sin)
Kwun Tong Recreation Ground (Kwun Tong)
Cheung Sha Wan Playground (Sham Shui Po)
Tat Tung Road Garden (Tung Chung)
Kwai Chung Sports Ground (Kwai Tsing)
Man Yee Playground (Sai Kung)
Po Hong Park (Tseung Kwan O)
Sha Tsui Road Playground (Tsuen Wan)
Shek Wu Hui Playground (North District)
Tin Hau Temple Fung Shui Square (Tai Po)
Tin Hau Temple Plaza (Tuen Mun)
Tung Tau Industrial Area Playground (Yuen Long)
Yuen Wo Playground (Sha Tin)
Opening Hours :
All the different venues of Chinese New Year Flower Markets usually open from 10:00am till late at night (such as 1:00am) depending which market or which day you visit.
Please note that on Chinese New Year Eve and Chinese New Year some flower markets might open earlier and/or have extended hours (some even till 4:00am).
Admission :
The admission to the Lunar New Year Flower Markets is Free of Charge. However, there will be charge on food, drink as well as souvenirs if you wish to purchase.

Do You Know
"Be prepared for a massive crowd of people no matter which time slot you choose. The best time to visit Chinese New Year Flower Markets is either in the early morning hours or early afternoon/evening hours (4:00 – 6:00pm). If you want to mingle with the crowds and would like to grasp the romantic Lunar New Year Flower Markets at night then you might want to visit around 6:00 – 9:00pm."

"Some Flower Markets (such as the one in Causeway Bay) will extend opening hour on the Chinese New Year Eve (Feb 16) till 4:00am. Lots of items will have great discounts on that day."

General Info and Details

 February 10th till February 16th, 2018


 10:00am – midnight (10th-15th, Feb) / midnight – 6:00am (16th Feb)


 Various Venues


 Free Admission
Other Major 2018 Hong Kong Chinese New Year Celebrations and Events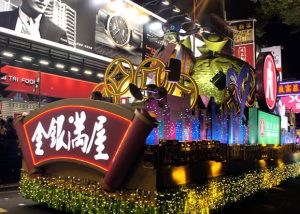 Lunar New Year Night Parade
(Feb 16, 2018)
Cathay Pacific International Chinese New Year Night Parade, with dozens of floats and street live performances by artists all around the world, will transform the streets in Tsim Sha Tsui into a gigantic New Year carnival.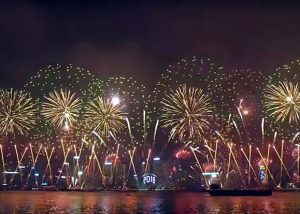 Lunar New Year Fireworks
(Feb 17, 2018)
Lunar Chinese New Year Fireworks Display is on the 2nd day of Chinese Lunar calendar and the CNY fireworks show is always the best of all. Find out the best locations for watching this magnificent show.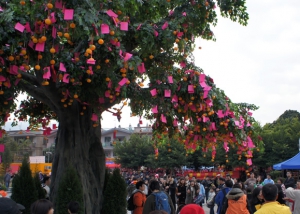 Lam Tsuen Well-Wishing Festival
(Feb 16 – Mar 4, 2018)
Lam Tsuen Well-wishing Festival is one of the oldest traditions during Chinese New Year in Hong Kong. Two giant banyan trees in Lam Tsuen are considered as god. Whenever there is a festival, villagers will toss the joss paper onto the wishing trees to make a wish.
Chinese New Year Race Day
(Feb 18, 2018)
Chinese New Year Race Day is not only one of the best way to start a new year and wish for good luck, but also it is a special horse racing mixed with many traditional elements.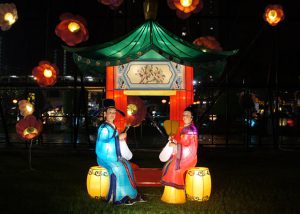 2018 Lunar New Year Lantern Carnivals
(Mar 1 - Mar 4, 2018)
The 2018 Lunar New Year Lantern Carnivals will feature with spectacular lantern displays as well as various performances including classical songs, dances and traditional stage arts.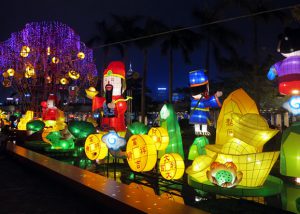 2018 Lunar New Year Thematic Lantern Display
(Feb 9 - Mar 4, 2018)
Lantern is an important element in Chinese tradition. Besides the Lunar New Year Lantern Carnival, there will be traditional lantern display in Cultural Center Piazza.