You must have heard about the cute piggy named "McDull", who was created by Hong Kong local artists and has been the image ambassador of Hong Kong Tourist Board. Hong Kong actually has much more lovely cartoon characters.
From 1st of March, 2012 till 15th of April 2012, in the Peak Galleria, there will be a exhibition of local cartoon, called "HK is a Funny Playground". This is an exhibition that local illustrators present their art works and manuscripts and introduces their favorite characters to you. If you come to the Peak Galleria, don't forget to drop by Hong Kong Gallery level L1 and take memorable photos with these cute figures.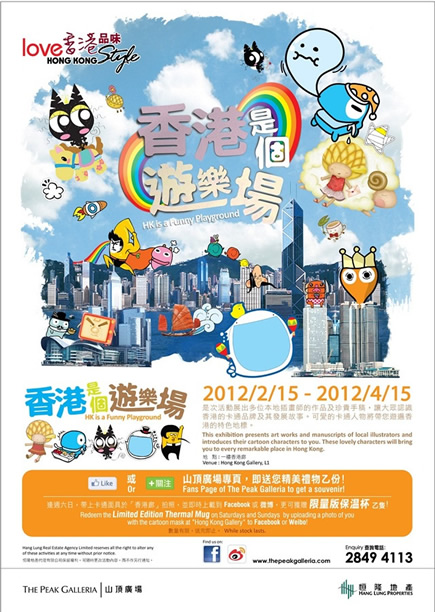 The Peak Galleria Local Cartoon Exhibition
The Peak is top attraction of Hong Kong and a must-go place if you travel in Hong Kong. You cannot say that you have been in Hong Kong if you never come to the Peak. The Peak is the highest point of Hong Kong Island and from the Peak you will have a stunning view of Hong Kong Island and Victoria Park.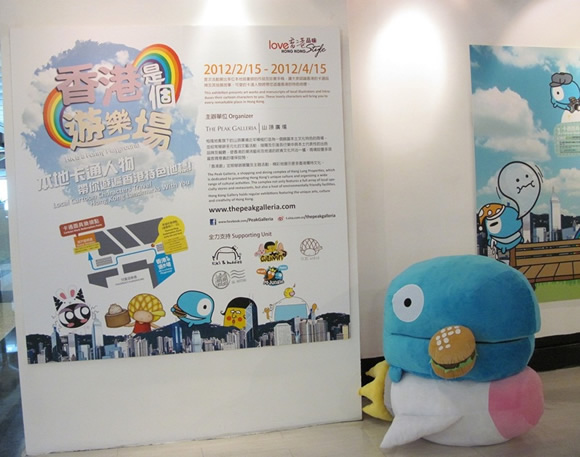 The Peak Galleria Local Cartoon Exhibition
Please be noted that from 12th-16th of March, Hong Kong Peak Tram will suspend service for annual maintenance. For more details and how to get to the Peak during this period of time, please refer to our earlier post "Peak Tram Closure from March 12-16 for General Maintenance".
If you follow the fans page of The Peak Galleria either on Facebook or on Sina Weibo, you will have chance to get a souvenir for free. If visit the Peak Galleria during weekends (Saturday or Sunday) by uploading a photo of you with the cartoon mask at "Hong Kong Gallery" to Facebook or Weibo, you can redeem the limited edition thermal mug as a special gift. Don't you think it's very tempting? What do you hesitate for then?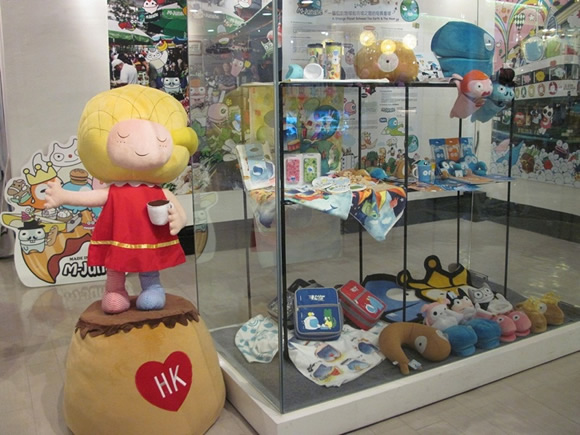 The Peak Galleria Local Cartoon Exhibition
If you want to the details about the Peak and how to get there, please refer to our information about "The Peak".
(Note: All the pictures of this article belongs to Hong Kong The Peak Galleria)