Promotion of Peak Tram and Peak Tower
Visitors who purchased Peak Tram Tickets, Peak Tram Sky Pass Tickets or Sky Terrace 428 Tickets are able to enjoy some special promotion and discounts. Simply present any of the before mentioned tickets at designated shops, stores, restaurants and entertainment venues at The Peak Tower to enjoy exclusive privilege offers and discounts.
Roughly about 30 shops, stores and restaurants participate in this unique offer. The Great Peak Offers is valid from now until June 30th, 2012.
Participating shops are Arte Madrid, Bubba Gump Shrimp Co., Burger King, Candy Haus, Crocs, Diamond Lam, Di concept Workshop, Double Happiness Art, e concept, Elegant Tang Dynasty, Gino's Gelato, Golden Flamingo, Hard Rock Café Rock Shop, Hello Gift Land, Hong Kong Day, I-Dragon World Digital Photo, Jungle Juice, Kyo Hachi Japanese Restaurant, Madame Tussauds, ME.N.U, Pacific Coffee Company, Pearl on The Peak, Sunglass Hut, Travelex, Tai Ping Shan Memories, Tang Dynasty Costume, Tien Yi Chinese Restaurant, Vina Gallery and Yum Yum Treats.
Please click the pictures below to see the detailed list of shops and stores and their special promotions and offers.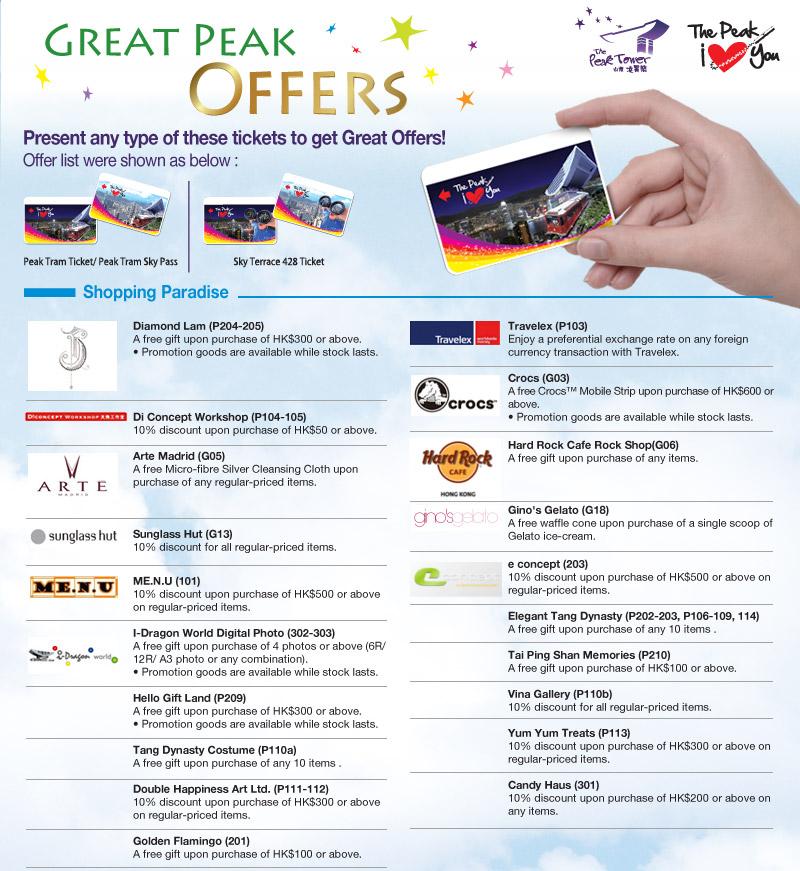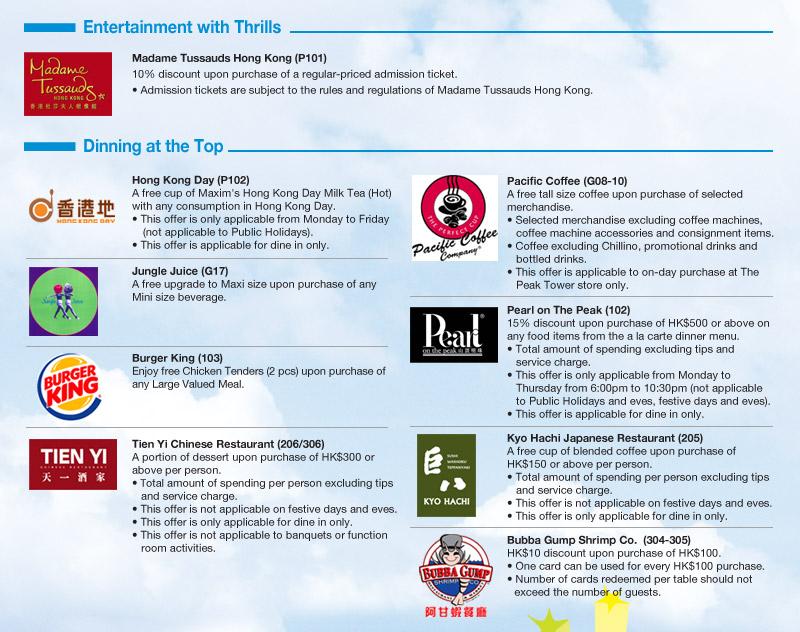 Madame Tussauds Hong Kong Birthday Surprise Promotion
Madame Tussauds Hong Kong launches a special Birthday Surprise Promotion this year. From now on till January31st 2013 visitors can enjoy a free admission to Madame Tussauds Hong Kong by visiting the famous museum 5 days before or 5 days after the day of their birthday. In order to enjoy this special Madame Tussauds Birthday Surprise, visitors need to present a valid proof of ID (e.g. HKID card) at one of the admission counters.
In addition, there are some special treats and gifts for the birthday celebrity at the Bubba Gump Shrimp Restaurant. If you decide to dine and spend over HK$ 500 at the Bubba Gump Shrimp Restaurant, the birthday celebrity can redeem a free Bubba Gump Shaker Glass. All you need to do is to present a valid ID and the receipt/tickets from Madame Tussauds Hong Kong.
For more information about Madame Tussauds Hong Kong and how to get there simply follow the link and read our related article about Madame Tussauds Wax museum.