Have you ever heard about McDull and his kindergarten friends McMug, June, May, Fei, Darby and Goosie? Have you ever seen a cartoon pink piglet with a brown birthmark on the right eye? McDull is a cartoon piggy character that is original from Hong Kong and very popular to Hong Kong people. He is also a character of lots of cartoon movies and comics, such as "My Life as McDull", "McDull, Prince de la Bun" and "McDull, Kung Fu Kindergarten". He also serves as the ambassador of "Honest and Quality Hong Kong Tour" for the Hong Kong Tourism Board in 2010. He has also been made into stationary, postcards, stamps, octopus cards, toys and all kinds of other items.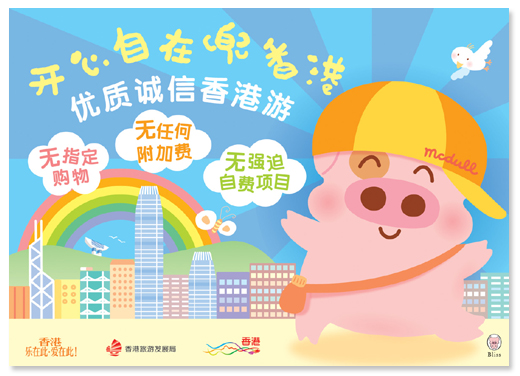 Around 20th of next month (July 2011), McDull and his mother Mrs. Mak will meet their fans in Madame Tussauds Hong Kong on the peak. The Madame Tussauds is working their best now on finishing the two wax figures and they will appear in the scene of traditional Hong Kong café. Tourists and fans will have a chance to sit together with them and enjoy an afternoon teatime of Hong Kong's famous "pineapple bun" "egg tarts" and "Hong Kong milk tea".
Recently, Madame Tussauds Hong Kong also launched Captain Jack Sparrow, a wax figure of Johnny Depp from "Disney movie "Pirates of the Daribbean's". What's more? If you go up the peak before the end of this month (30th of June) and buy a ticket of Madame Tussauds, you will get a unique souvenir for only HK$1. For details, please refer to our post here.
p.s.: If you have kids with you, you maybe have interest to check the " McDull's Family Guide of Hong Kong". The lovely McDull will lead you to all the kids' favorite attractions, snacks, fun places as well as other highlights in Hong Kong.

If you have interest to know more about McDull, please check their official website here.
(The copyright of all the pictures in this post belongs to Hong Kong Tourism Board.)
Update: Here is a video about the opening ceremony.