"Ding Ding" Tram is one of the most historical transportation and famous icons in Hong Kong. On April 26th, 2012 Hong Kong Tramways Ltd. introduced a new system called "NexTram", which is the first land transport real time information system in Hong Kong and enables passengers to get immediate information of the trams. Besides, the idea and concept behind the "NexTram" system focuses to enhance the tramcar regulation and adaptation of their current service.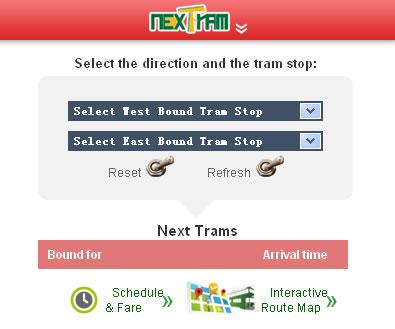 (Note:Picture Source: Hong Kong Tramways Limited.)
The "NexTram" system aims to inform and give passengers all the necessary information needed to enjoy a more hassle free journey and journey planning. For passengers it's helpful for them to know the in-time information such as tram accidents or other unpredictable incidence. Especially for non-local visitors, the "NexTram" system will enhance their traveling experiences.
The new real time passenger information "NexTram" includes:
1) LED displays and audio messages onboard the tram to inform the next stop;
2) Passengers can check the approaching trams through their mobile device or "NexTram" on Hong Kong Tramways website;
3) Some selected tram station will install LED Displays to show the next three approaching trams;
4) Each tram station will be equipped with a special QR code. By scanning this QR code with a mobile device passengers can get the arrival time and destination of the next three trams approaching their current tram stop;
With the "NexTram" system the Hong Kong Tramways Ltd. aims to gain a better understanding and match of external conditions of tram operation with passenger demands. In case of traffic jams and rush hours, trams can be allocated in more efficient way and reduce people's waiting time. The "NexTram" interface is available in English, traditional and simplified Chinese.