The New Year 2012 starts with some good news for all of you short term visitors to Hong Kong. The MTR Corporation introduces an enhanced Tourist Day Pass. From January 1st, 2012 tourists who purchase the Tourist Day Pass, Airport Express Travel Pass or Tourist Cross-boundary Travel Pass (the Child Tourist Pass is unfortunately excluded) are able to enjoy up to 33% discount on Hong Kong's most popular attractions.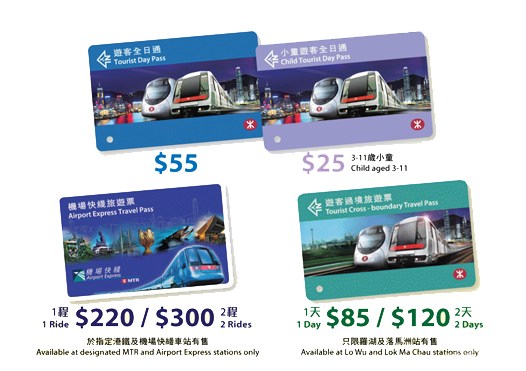 (Picture Source: MTR Hong Kong Corporation)
Offers include:
1. Enjoy a HK$ 40 or HK$ 50 discount off the published price for the 1-Day or 2-Day General Admission Ticket of Hong Kong Disneyland respectively. Furthermore, if you decide to pay the tickets by Visa credit card, you will enjoy extra HK$ 5 off for the 1-Day General Admission Ticket and extra HK$ 10 for the 2-Day General Admission Ticket.
2. The Madame Tussauds Hong Kong will provide a HK$ 20 discount on regular priced adult tickets and HK$ 10 off for regular priced concession tickets.
3. For all of you who plan to take the Ngong Ping 360 Cable Car ride: you can enjoy a 10% discount off the regular Cable Car tickets. If you opt to take the Journey of Enlightenment Package or 360 Holidays Guided Tour you are able to save 15% of the regular price.
4. Last but not least is one of Hong Kong's latest and hottest attractions: the Sky100 Hong Kong Observation Deck. With the MTR Tourist Value Pack you are to save HK$ 50 of the regular priced adult ticket of HK$ 150 and HK$ 20 of the regular priced child ticket of HK$ 105, respectively.
Prices for the MTR Tourist 1-Day Pass is HK$ 55 (Child HK$ 25). The 1-rider Airport Express Travel Pass is available for HK$ 220 while the 2-rider Pass runs at HK$ 300. Last but not least, you can purchase the 1-day Tourist Cross-boundary Pass for HK$ 85 and the 2-Day Pass for HK$ 120. More details about the Tourist Value Pack, please click the link.